Born in Waterloo, Liverpool 1902 Frederick Behn joined the Aliens just after the Great War in 1919 and played until 1923.


His father, Frederick T.H was a merchant for Denson & Co., West African Merchants in Pall Mall, Liverpool. ( The museum received a donation of 16 beetles from the Gold Coast off him)
Frederick J. also got into the same business as a Traders Assistant and moved out to West Africa in 1925.
After returning from Africa he joined the T.A, receiving the Territorial Efficiency Decoration (10 years service) and in 1939 rose to the rank of Major with the 4th Anti-Aircraft Division, an air defence formation created in the period of tension before the outbreak of World War II. It defended North West England during the Blitz. (See also Sefton A.A Gunsite)
During these inter-war years he was living on Broad Green Road in Roby (now demolished for the M62), just by Bowring Park golf course. He was a handy golfer and won the Officers Challenge Cup three times.

[Courtesy of preservingthepast.prescotmuseum.org.uk]
In June 1945 he was awarded the Order of the British Empire, in recognition of gallant and distinguished services in North West Europe.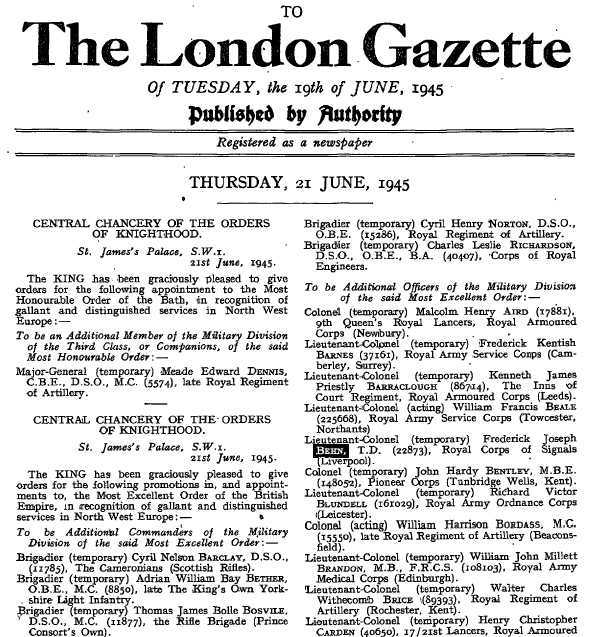 His father died in 1946 and he continued his exporting business, living in St Marys Road, Huyton.
In 1950 he was awarded 3 Clasps to his Territorial Efficiency Decoration (5 more years service for each clasp)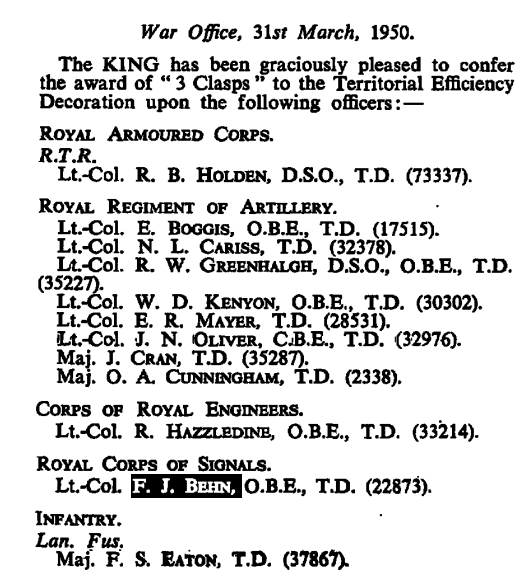 In 1957 he left the Territorial Army Reserve of Officers (age limit) with the rank of Lt-Colonel.
Liverpool Echo 1957 (see ex-Seftonian E.M.Morrison MC)
At the AGM of the Liverpool Branch of the Royal Signals Association in 1965 Colonel F.J Behn was elected President .
| | |
| --- | --- |
| | |
| Territorial Efficiency Decoration | Order of British Empire |

Frederick Behn passed away in the Isle of Man in 1975

Colonel FREDERICK JOSEPH BEHN OBE TD


(1902-1975)
All Aliens RFC, Seft0n RUFC photographs, programmes and memorabilia Copyright © 2012 Sefton RUFC