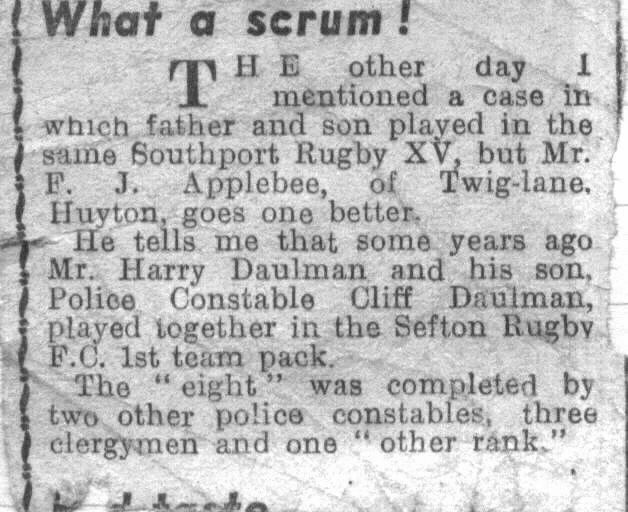 John Henry Corlett "Harry" Daulman was born 1876 in Birkenhead and played for the Aliens straight after the Great War in the 1919/20 season.
His son John Henry Clifford, born 1902, joined Sefton the very next season and soon started to play first team rugby.
Committee Meeting held at Gainsboro' Cafe 22.12.20
Present Messrs Knipe, Croxford, O'Donnell, Bayliss, Milbourn, K.Dixon, Hutchings, Applebee
The minutes of the previous meeting were read and confirmed.
The following were elected playing members of the club.
| | | | | |
| --- | --- | --- | --- | --- |
| J.H.C.Daulman | proposed by | H.Daulman | seconded by | F.J.Applebee |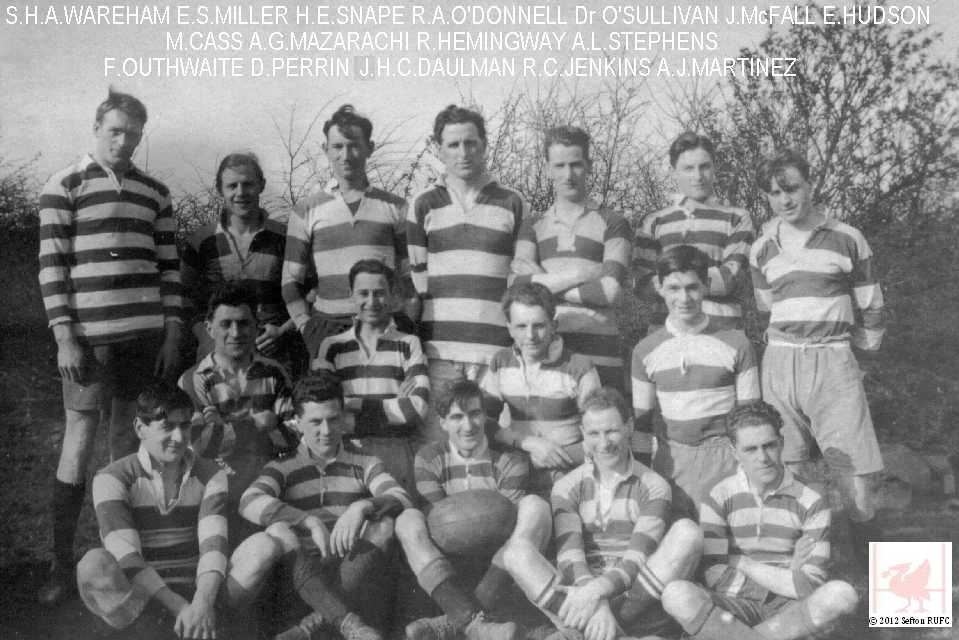 General Meeting held at Bee Hotel 12.8.21
Present Messrs Rimmer, Mackenzie, J.A.Williams, J.R.Williams, Herring, Hemmingway, Snape, Stephens, Bayliss, Marshall, Taylor, Smith, Milbourn, Barber, Knipe, Wilson, Linton, Munro, A.L.Roberts, M.Cass, A.Robinson, Marsh, F.S.Porter, Nuttall, McClenaghan, Spence, Watts, Applebee, Jenkins, Leff, Bond, Dixon, O'Donnell, Radcliffe, with Mr Knipe in the "chair".
The election of the officers resulted as follows:-
| | |
| --- | --- |
| Captain 3rd team | H.Daulman. |
It was during this point in time that Fred Applebee remembers Daulman Senior and Junior playing together and became the first father and son combination playing in Sefton jerseys.
Daulman Snr retired soon after a happy man.
Committee Meeting held at Hare and Hounds Hotel Sept 21st 1922
Present Messrs Smith(chairman), Applebee, Milbourn, Marshall, Kay, Knipe, Hemmingway, Dubourg, Brownbill, Munro, Croxford, Cain, Mackenzie and Bayliss.
The secretary reported that messrs Snape and
Daulman
had intimated their intention of retiring from active participation in the game, and messrs Kay and Bayliss were elected captains of the 2
nd
and 3
rd
teams respectively.
In October 1923 Harry and Cliff resigned from the club but Cliff started playing again after getting married in 1925 (Cliff probably concentrated on becoming a bobby).
Committee Meeting held at Hare and Hounds Hotel 1.10.23
Present Messrs Applebee, Milbourn, Marshall, Webley, Kay, King, Dubourg, Mackenzie, Redhead, Bayliss, Munro, Knipe with W.J.Smith chairman.
The Resignations of the following members were accepted with regret.
A.V.T.Jones (Gone to America), H.Daulman,
H.W.Jones (Working at Manchester) C.Daulman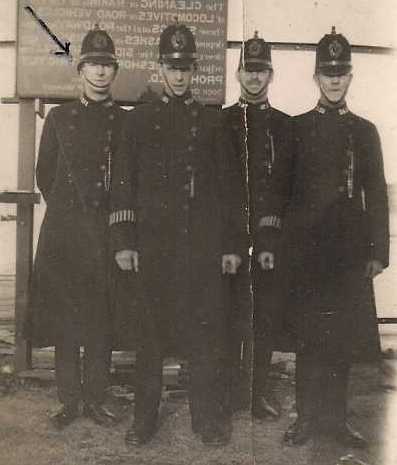 In 1929 Cliff resigned from the Police Force and took the bold step of emigrating to the States with his wife and his three year old son Clifford Ralph. He had to remarry in 1942 and owned a Car Repair Shop with his son in West New York, New Jersey.