An Alien at War

Fred Outhwaite
Written and researched by David Bohl, with the kind help and documents supplied by World War 1 historians worldwide.
Born around 1891 in Runcorn, Fred moved with his family to Liverpool and lived at 33 Arvon Street in Bootle. He joined the Aliens in 1912 and became a prominent first team player representing both Liverpool and District, and Lancashire as first reserve. Before leaving for South Africa in 1922, the honour of being the club's first honorary life member was bestowed upon him.

Back Row F.J.APPLEBEE D.SLOSS R.A.O'DONNELL W.J.TRIST J.MILBOURN S.J.BISHOP H.W.THOMAS F.OUTHWAITE T.MADOC-JONES O.E.BAYLISS
Middle Row J.W.A.TAYLOR J.WILLIAMS H.N.ELLIS R.W.JONES(Captain) W.B.CROXFORD J.H.HELME J.RUMJAHN
Front Row A.W.COCKS H.BAYLISS

He joined the Territorial Force as an 18 year old warehouseman on 1st June 1910, enlisting with the 5th Battalion of the King's Liverpool Regiment. On the 1911 Census he was recorded as a farm labourer living off Hawthorne Road in Orrell.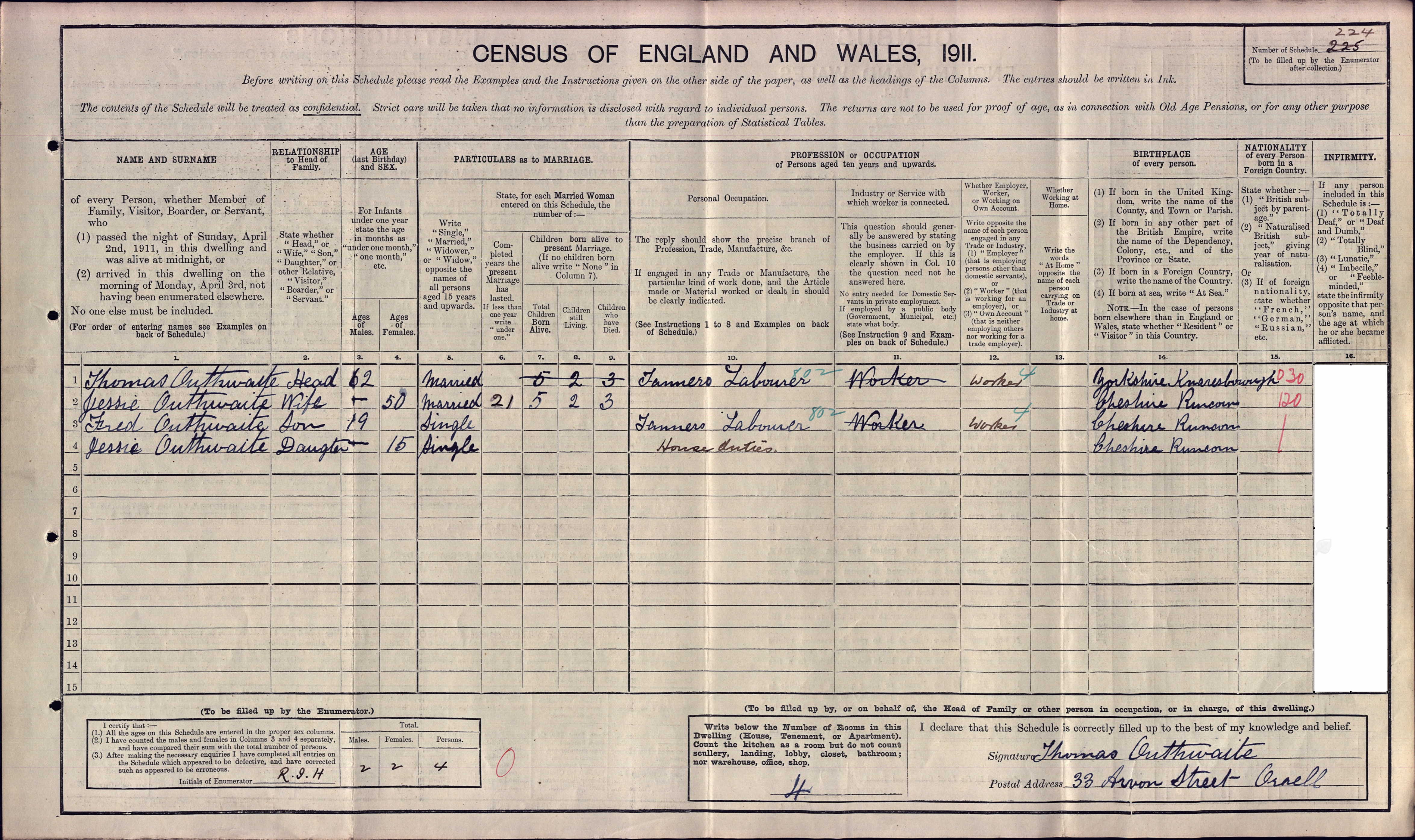 [Ancestry.com]
www.old-maps.co.uk
One of his first games for the Aliens is recorded in the local press.
Liverpool University 2nd v Aliens 2nd at Calderstones 2.45
Williamson, Chenet, Taylor, Tolson, Quine, O.E.Baylis, H.Bayliss, Brash, Garet, Griffiths, T.Madoc-Jones, G.Madoc-Jones, Narbonne, Outhwaite, Owens, Roberts
Liverpool Daily Courier 13th January 1912
(Several of his team mates mentioned such as Horace Tolson, Alex Williamson and Bob Griffiths did not return from WW1.)
Territorial Force WW1
Fred was already in the King's Regiment and went to France in 1915 with the 5th Battalion.
Six Territorial Battalions existed before the outbreak of the First World War: 5th, 6th Liverpool Rifles, 7th, 8th Liverpool Irish, 9th, and 10th Liverpool Scottish. In 1914 these battalions accepted new recruits to expand to war strength. In September and October 1914 they formed new second line battalions which were numbered 2/5th, 2/6th etc; the original first line battalions became 1/5th etc. The first line battalions went to France in late 1914 and early 1915, while the second line battalions went to France in February 1917. Third line battalions, 3/5th etc, were formed in May 1915 and remained in the UK.
Battalions of the Territorial Force
1/5th Battalion
August 1914 : in St Anne St, Liverpool. Part of Liverpool Brigade, West Lancashire Division.
22 February 1915 : landed at Le Havre and transferred to 6th Brigade, 2nd Division.
15 December 1915 : transferred to 99th Brigade in same Division.
7 January 1916 : transferred to 165th Brigade, 55th (West Lancashire) Division.
Winter Operations 1914-15
The Battle of Festubert
The Battle of Loos
He was discharged from the King's Liverpool Regiment in May 1916 on termination of his period of engagement, see his Medal Card later.
He resumed family life and soon married Ann Fairhurst, having a son Harold (died in infancy) and daughter Margaret. His rugby career quickly surged ahead with the Aliens, all detailed by secretary Fred Applebee in the Committee Minutes, and the newspapers.
General Meeting held at 'The Bee Hotel' 3.10.19
The Election of Officers resulted as follows
| | |
| --- | --- |
| Captain | J.H.Helme |
| Vice-capt. | F.Outhwaite |
TRIAL MATCH
With very little form to guide them Mr Croxford and co. did the best they could and the following team have been invited to represent Liverpool and District at Aigburth next Saturday ……..F.Outhwaite (Aliens)
Liverpool Daily Courier 13/10/1919
DID FRED PLAY NORTHERN UNION ?
Emergency Committee Meeting at 40 Inigo Rd, Stoneycroft 23.10.19
Mr W.B.Croxford the clubs' representative on the county committee received from the county secretary 27.10.19 a letter of which the following is a copy.
Lancs. Country F.C.
28 Brazenose St.
Manchester.
Dear Croxford,
I am informed that Outhwaite, Aliens, Lancashire probably played for Runcorn last year. Can you please verify whether this is so or not, as a member of selection committee, as such I tell you confidentially it has come to me by wire today from Mr James Milnes who says his informant is Baxter (of Cheshire I presume)
Chas Fletcher
An emergency committee consisting of Messrs Applebee, Croxford, Knipe and Milbourn was summoned, and Outhwaite was asked to appear before them. Mr Knipe could not attend.
The Vice-Captain was questioned by the committee and stated that the charge was absolutely unfounded. He added that he was prepared to state on oath, in a court of law if necessary, that since joining the Aliens R.F.C the only matches he has played have been for the Aliens, for Mr Croxfords' Liverpool and District Side, for Lancashire County Trials, and two scratch matches, one at Canterbury and one in France whilst serving with His Majestys' Forces'.
The committee expressed their delight that Mr Outhwaite was able to deny the charge, and left the matter in Mr Croxford's hands for the time being.
The general committee of the club will decide what further steps are to be taken in the matter.
UNIVERSITY'S WIN.
Liverpool University, who were again playing at Calderstones Park on Saturday, got the better of the Aliens by 6 points to 5. Neither side was at full strength. The 'Varsity were without Hope, Woodson, and Reid, who were selected for the county trial, and the Aliens were minus their captain. Helme, who was injured last week, and Outhwaite, who was also in the Probables v. Possibles game at Tyldesley.
The game on the whole was rather scrappy, but there was plenty of attractive incident and two casualties, one in either fifteen. Johnson, one of the 'Varsity three-quarters, was just about to cross the Aliens' line when he was brought down heavily and had his collar-bone broken in a melee. He played on for a few minutes before retiring to the pavilion. The Aliens lost Sloss, who went off with a ricked back.
The scoring opened like a bolt from the blue. The Aliens were having a desperate fight on their own line, and the 'Varsity seemed on the ace of scoring, when the ball was suddenly got away to King. The wing three-quarter, whose remarkable turn of speed was the subject of frequent comment, was unmarked, and capped a dash nearly the whole length of the field by grounding under the 'Varsity posts. M'Diarmid converted, and the Aliens' 5 points lead was not wiped out till after the interval. The second half saw the 'Varsity maintain a persistent attack which, but for an excess, of individualism, would have meant at least three tries. Indeed, so far as actual points were, the home side owed their victory to Turner, who kicked two capital penalty goals and narrowly missed a third. M'Diarmid was quite the outstanding feature among the Aliens, for whom Hemmingway, King and Corlett did well. Burton, Oldham, Flynn, and Cook were the most noticeable men in the 'Varsity colours.
Result: Liverpool University, 6 points; Aliens, 5 points. Teams:-
Liverpool University. - McLaren; H. R. Coster, A. Wilson, J. R. Johnson, and D. J. Cook; J. P. Flynn and R. S. Turner; J B. Oldham, S. Dumbell. L. Armour, W. Burton, D.A. Wells. A. R. Mann, J. V. Stephens, and Parry-Jones.
Aliens.- R. Hemmingway: T. King. D. Bellamy, S. J. Kay, and O. Robinson; W. J. Barber and J. M'Diarmid; D. Sloss. J. Williams, H. Daulman, R. A. Roberts, H. E. Snape, E. B. Ringrose, R. L. Corlett, and W. H. Varley. Referee, Dr. Smith.
Liverpool Post 27/10/1919
Committee Meeting held at Gainsboro' Cafe 16.4.20
One of our members R.A.O'Donnell played for Lancashire v Northumberland and scored two tries. His play was highly commended in the press. S.Dumbell, and Alien trained player, now with University appeared v Durham, and F.Outhwaite was first reserve v Cheshire.
Committee Meeting held at Hare and Hounds Hotel July 28th 1922
It was proposed from the chair that the following should be added to the rules of the club. "That life membership of the club may be conferred, on occasion, on members who have rendered exceptional service to the club" and that Mr F.Outhwaite be made the first life member. Carried.
Mr Outhwaite was manoeuvred out of the room, and in his absence the committee decided to circularise the members with a view to making him a presentation on the eve of his departure for South Africa.
General Meeting Victoria Café Friday Aug. 18th 1922
Mr Smith proposed that "life membership may be conferred on members who have rendered exceptional service to the club" Carried unanimously.
Mr Croxford proposed that the secretary and F.Outhwaite be elected life-members. Carried unanimously.
The president on behalf of the members of the club made a presentation of a gold watch and chain to Mr Outhwaite who, prior to his departure to take up a new post in South Africa.
After several of the older members had spoken appreciatively of Mr Outhwaite, as a man both on and off the field, and after everyone had wished him the best of luck in his new sphere of work, Mr Outhwaite replied, touching on the happy times he had spent with the members of the club and expressing his best wishes for the success of the Sefton Club, to which, as life member he would always belong.
Passenger Record 1922
OUTHWAITE F b. 1892 Male 1922 Southampton South Africa Cape Town
Great Brak River
| | |
| --- | --- |
| Photo by Kelvin Saunders | Photo courtesy of GBR Museum |
Fred joins 'The Pirates', a team from Great Brak River, on the Garden Route out of Cape Town.
The club is still in existence (Groot-Brak River) and play in the South Western Districts Premier.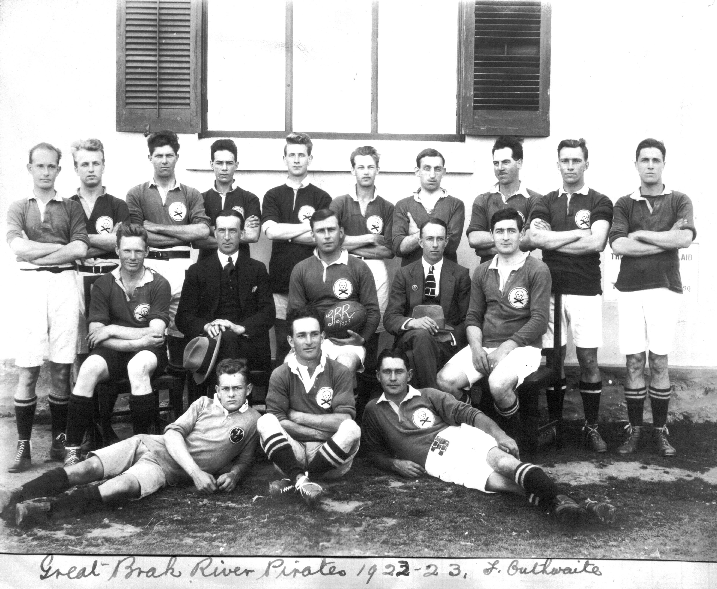 Back Row: J Grebe, N F Squier, J Theron, H Westenraad, E Sierra, E Fouche, G Simpson, P Vaughan, G Lotz, N T Terblanche.
Middle Row: H Swart, Mr B Fitzroy, Breakell Clotz (Captain), Mr E C Black, F Outhwaite.
Front Row: E Terblanche, O Terblanche, W S van Wyk.
Passenger Record 1927
OUTHWAITE F b.1892 Male 1927 Southampton South Africa Cape
OUTHWAITE M b.1922 Female 1927 Southampton South Africa Cape
On a return trip to the UK with his daughter Margaret, Fred applies and receives his Territorial Force War Medals.
[Ancestry.com]

Medal Card explained
The reference "TE" or "T/E" means "Time expired" and "T of E" means "Terms of Engagement" (expired). That is, the man had reached the end of his agreed period of military service. It applies only to pre-war soldiers of the regular army, Special Reserve or Territorial Force. The man was allowed to return home. From 1916 onward, however, many TE men returned to or were retained on active service as conscripted soldiers, despite their earlier service being completed.
Private Fred Outhwaite, from Liverpool, served in the 5th Liverpool Regiment. His regiment number was 1210. His Medal Award card shows he was eligible for the Victory medal and the British medal (reference H/2/102 B p12), as well as the 1915 Star (reference H/2/7B p1459), and that he went overseas to France on 21 February 1915.
The actual meaning of the reference NW/7/29143 appears to have been lost through time, but it is a frequently seen type of reference that appears to refer to the order and despatch of the medals.
The Medal Card may also give us an insight as to why he left for South Africa in 1922 as it records the fact he was a Captain in the South Africa Defence Force. He may have been there beforehand as in 1914, under British directive, South Africa occupied German South West Africa with 43,000 soldiers.
WW1 - Louis Botha makes a small alteration to the face of Africa...

(www.kaisercross.com)
On 12 July 1922 the South African Defence Amendment Act (Act 22 of 1922) was promulgated, giving effect to an earlier decision to replace the system of 5 dispersed mounted constabulary units (SAMR) with a single regiment of Mounted Riflemen. The following units and corps were officially established in terms of the Amended Act: SA Staff Corps; SA Instructional Corps; SA Naval Service; SA Field Artillery; SA Permanent Garrison Artillery; SA Engineer Corps; SA Air Force; SA Service Corps; SA Medical Corps; SA Ordinance Corps; SA Veterinary Corps and SA Administrative, Pay and Clerical Corps.
Despite the establishment of the new Corps, the actual size of the UDF shrunk still further during this period as a result of pay cuts, resignations, retrenchments and discharges. A further economy was achieved on 30 September 1922 following the retirement of the Secretary for Defence, Sir Roland Bourne. It was decided not to replace the Secretary, but rather to transfer his functions to the Chief of the General Staff.
(Scientia Militaria, South African Journal of Military Studies)
Responsibilities and Duties of the SADF
While the stated and chief duty of the SADF was to defend and protect South African territory, there were times when they merged with the police. The SADF was used to crush rebellions and strikes (e.g. the 1922 Rand Rebellion, see appendix.)
Fred makes one final trip home in 1952
OUTHWAITE F b.1892 Male 1952 Southampton South Africa Port Elizabeth (Algoa Bay)
South African genealogy records are not very accessible but there are entries for 1950 and 1957 which I assume are the family notices.
Ann Fairhurst d.1950 S.A

Fred Outhwaite d.1957 S.A

South End Cemetery - Port Elizabeth

[photo from www.eggsa.org]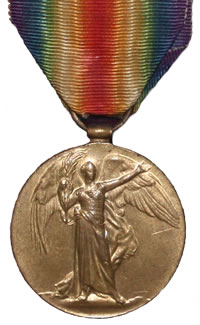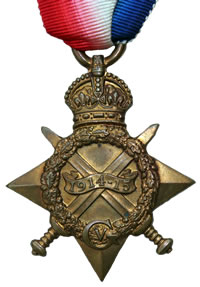 The Allied Victory Medal British War Medal, 1914-18 The 1914-15 Star
Capt. Fred Outhwaite
(1891-1957)
Appendix
Date: 28 December, 1921
The end of World War I was followed by a global depression that affected South Africa as well. Soon after the war, in 1918 and 1919, Black workers across economic sectors went on strike. In 1921 White workers, mainly in the coal and gold mines, went on strike. The reasons for the strike were a reduction of wages and the preference for cheaper Black Labour. This led to an increase in the employment of Black workers in positions previously held by white miners at reduced pay.
With strong organisational links to the newly formed South African Communist Party (SACP) under the leadership of W. H. Andrews and the South African Labour Party white miners went on strike on 28 December 1921. The strike became particularly intense in February 1922. At the time the government was led by General J. C. Smut's South African Party (SAP). The Government reacted to the strike with force, leaving 200 people dead, including many policemen and more 1000 injured. As the rebels had held a number of locations that had become their strongholds, government troops invaded these, and in some cases, used bombs to suppress the revolt. This was the case in Fordsburg south of Johannesburg, an area that had become a stronghold of the labour movement behind the strike.
One of the long term consequences of the strike was increased unpopularity of the Smuts government. As the strike occurred on the eve of the general election of 1923, it became of the causes of the defeat of the Smuts government in that election. There is no doubt that the strike led to the growth of support for the Labour Party under the leadership of Colonel Creswell, which was considered an ally of the Labour Movement and General J. B. M. Hertzog's National Party, which enjoyed a great deal of support among the poor whites, particularly the Afrikaner. In the subsequent elections a Pact government of the Labour Party and the National Party came into office, lasting until the next election in 1929.
Strike
Date: 1 January, 1922
On this day Transvaal coal miners embarked on a strike because of a wage cut of 5/- per shift. On 10 January 1922 White mine workers on the Rand gold mines followed their example, because they rejected a proposal that a regulation concerning the ratio of Whites to Blacks should be adjusted in favour of Blacks. If applied, it would also have resulted in wage cuts.
The strike of the 20 000 White miners meant that the 180 000 Black workers had no work either. The strike escalated into a large-scale revolt against the government, which became known as the Rand Rebellion. By March 1922 Johannesburg had been turned into a war zone. Resistance only stopped on 14 March after heavy bombardment of the headquarters of the miners in Fordsburg
Date: 9 January, 1922
In January 1922 some 22 000 white miners downed their tools and went on strike in what became known as the Rand Rebellion or the Red Revolt. Eventually martial law was proclaimed and the Smuts government sent in the defence force, which effectively crushed the general strike. By the end of the strike 153 miners had been killed and 500 wounded; 5000 strikers had been arrested of whom 4 were later hanged for treason. The breaking of the strike also resulted in the virtual destruction of the white trade unions' bargaining power. Hundreds of white miners were subsequently laid off and those who were not had to be satisfied with lower wages and the de-skilling of certain jobs.
The strike occurred during a period of economic depression following World War I, when mining companies were faced with rising costs and a fall in the price of gold. Mining Capital realised the need to reduce costs and it did so by targeting what it deemed unduly highly paid white labour. The Chamber of Mines therefore announced that they would reduce labour costs by removing the colour bar and increasing the ratio of black workers to white, for although the wages for whites had risen 60 per cent since World War I, wages for blacks had increased only 9 per cent.
Date: 10 March, 1922
Angry White workers, on strike since 28 December 1921, stormed and occupied police stations, railway installations and mines on the Witwatersrand. They also attacked Johannesburg's main post office and power station in a mass protest that, in a few hours, turned into open rebellion against the state. They decided to use force to overthrow the government and to declare a republic. Prime Minister J.C. Smuts declared martial law and entered Johannesburg with detachments of the army, supported by the air force. Within four days the revolt was crushed. 153 people, including 72 members of the state forces, had been killed and 534 injured. This uprising is popularly known as the Rand Revolt or Rebellion.
Date: 15 March, 1922
The Rand Rebellion of 1922 was an armed uprising, also referred to as the Rand Revolt or Red Revolt, which occurred during a period of economic depression following World War I. After the war, mining companies were faced with rising costs, and a fall in the price of gold.
A general strike was organized by white trade unions in Johannesburg, South Africa, in 1922. This was in response to intensified exploitation of the miners, and a decision by gold-mining industry leaders to replace many white workers with black workers. The strike began in January 1922, and became an open rebellion against the state. Subsequently, the workers took over the cities of Benoni and Brakpan, and the Johannesburg suburbs of Fordsburg and Jeppe. The young Communist Party of South Africa (CPSA) took an active part in the uprising.
On 15 March 1992, the South African government's artillery bombarded the strikers' stronghold at Fordsburg Square, and in the afternoon, it fell to the government. Before committing suicide in the building, the two communist leaders of the strike, Fisher and Spendiff, left a joint note: 'We died for what we believed in - the Cause'.
Samuel Alfred (Taffy) Long, heralded by subsequent labour histories as one of South Africa's greatest working-class martyrs, was arrested after the defeat of Fordsburg. He was charged with murder, and later with high treason and the possession of loot.
From 15 to 19 March 1922, government troops cleared the areas of snipers and conducted house-to-house searches of premises belonging to the 'Reds' (Communists). Several arrests were made. On March 16 1922, the Union Defense Headquarters issued a press statement that the revolt had been a socialist revolution organized by Bolshevists, international socialists and communists. The end of the revolt was declared from midnight on 18 March 1922.
Date: 18 March, 1922
18 March 1922
The Rand Revolt Ends
The strike by mineworkers on the Witwatersrand, also known as the Rand Revolt, ends. More than 200 people were killed during the strike, which put thousands out of work and caused a devastating loss in coal and gold production
South African History Online
[www.sahistory.org.za]