An Alien at War
Written and researched by David Bohl, with the kind help and documents supplied by World War 1 historians worldwide.
James Manning was a Vice President of the Aliens and documented in the 1912/13 handbook but there is no record of him playing rugby.

At the AGM held at Elm Bank, Oakfield on the 27th May 1913 his name struck off the list of members, perhaps he resigned due to leaving the city for an appointment in London.

Born around 1879 in Leeds he became Schoolmaster at St Michael's RC School in York Street and married Alice Nuttall in September 1899.
Awarded the Distinguished Conduct Medal ?
For WW1 James Manning joined up in the King's Liverpool Regiment, then on to the Royal Fusiliers and London Regiment. According to NUT Records he won the DCM. (Can't be ratified as the award went to a Scots Guard with the same name). He was invalided out of the war with a gun shot wound to the back and head, receiving the Silver War Badge.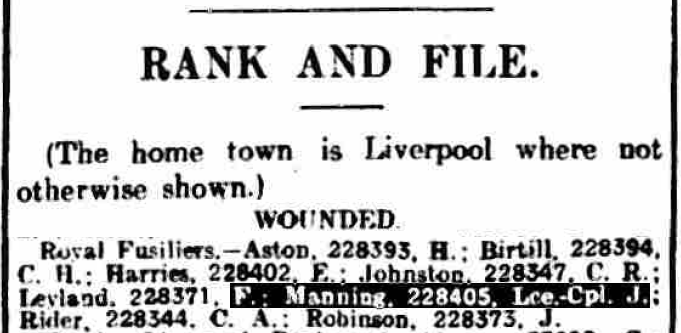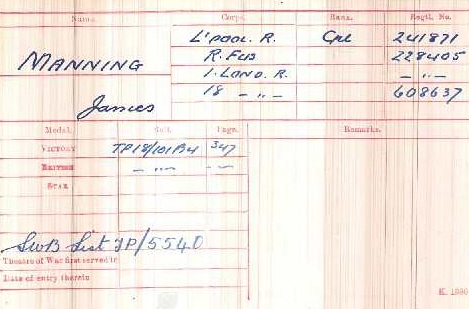 [Ancestry.com]
1920 National Union of Teachers Listing

[National Union of Teachers War Records 1914 -1919]
James Manning passed away in 1938 in Liverpool

Cpl James Manning
(1878-1938)
All Aliens RFC, Sefton RUFC photographs, programmes and memorabilia Copyright © 2012 Sefton RUFC