The Mystery President

William Marr Orr

(1869-1946)
Written and researched by David Bohl, with the kind help and documents supplied by Local Historians.
Although not having played rugby for the club William Marr Orr was made Sefton President in 1936 at the ripe old age of 67. So why was he elevated to such a position ?

Born around 1869 in Liverpool to Scottish parents he lived the single life at home in 10 Gwladys Street, Walton and later at the age of 40 was boarding in Hatherley Street, Toxteth.
According to census records he was a clerk in the Corn Exchange.
We know he was a good friend to many of the Alien Schoolteachers and played on a regular basis for Clubmoor Cricket Club with founder member Fred Applebee.

His formative years were brought to light by a newspaper snippet of 1st October 1892 under the headline
"Reinstatement of Professionals"

Joseph Matthews, Langley Green Victoria; Birmingham

John McBean. Royal Arsenal;

Thomas. McCluskey, St. Augustine's; Darlington

John Ogden, Newton Heath; (became Man Utd)

William Marr Orr, Liverpool Caledonians;

A. Pickles, Attercliffe; Sheffield

F. Pitts Montrose; Scotland

William Potts, Southwick; Sussex

John Pickerill, Wolverhampton Wanderers;

William Pope, Wednesbury Old Athletic; Birmingham

|

|
It appears he played football for the Liverpool Caledonians in their amateur promotional push of 1890/91.
A pretty good claim to fame is he played a game against Everton on the occasion of the opening of the new ground at Woodcroft Park on a Monday 28th Sept 1891.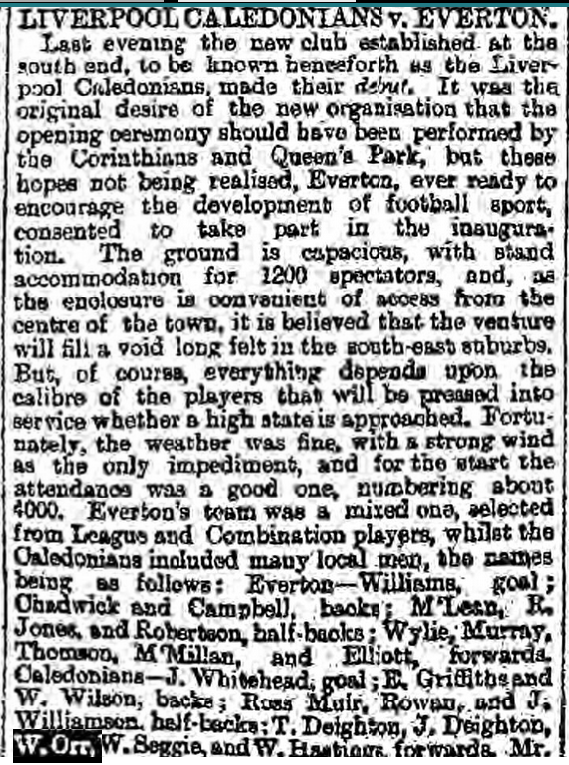 The "Callies" as they were known applied by telegram for promotion into the Lancashire League in the 1892/93 season and were duly admitted . A £5000 money pot and grand ideas for their ground at Woodcroft Park, Wavertree were joyously displayed in the Liverpool Mercury.
The whereabouts of the ground is still subject to conjecture by the Wavertree History Society and the hunt is still on (see Is This Woodcroft Park?)

Marr-Orr played in the professional ranks for the first month of the season but reverted back to an amateur status as the earlier snippet highlights (probably injury).
Liverpool Mercury 10th September 1892
The Liverpool Caledonian objective of becoming one of the "Top Four" with Liverpool, Everton and Bootle came to an abrupt end after 7 games and a 3-2 FA Cup quarter final defeat by Northwich Victoria.
In December 1892 the Chairman Charles Birchall (owner of the Liverpool Journal of Commerce) called an EGM and the company was liquidated.
The ground was taken over by Liverpool Old Boys to play rugby and they often hosted the likes of Birkenhead Park, Waterloo and Broughton Park.
William passed away on 21st July 1946 at Smithdown Road Hospital

He was living at 140 Princes Road and left all to his sister Barbara Stevenson
William Marr Orr

(1869-1946)