Alien Officer purges East Africa
Written and researched by
David Bohl
, with the kind help of the Meander Chronicle S.A, granddaughter Frances Brown and historians world wide.

Born in Liverpool 1888 Tom Paterson Owens(TPO) was encouraged by his younger brother Richard to play rugby for the Aliens in the 1910-11 season.

Liverpool 3rd v Aliens 2nd at Aigburth 3
WH.Evans, E.Quine, A.Williamson, J.Fairley, E.Smith, OE.Bayliss, H.Howarth, N.Howe, WJ.Inglis, RF.Owens, TP.Owens, W.Parry, D.Sloss, W.Sloss, J.Williams
Liverpool Echo 10th February 1911
They both lived with their mother and step-father in Walton, Tom was a schoolteacher and Richard a railway clerk.
TPO was an ambitious person and took on the daunting prospect of teaching in a borstal institution, most probably away from the city.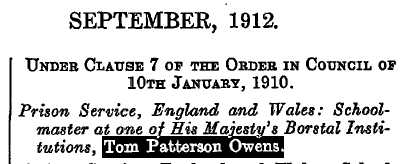 When the Great War broke out TPO undertook officer training and was commissioned 2nd Lt in "The Buffs", the East Kent Regt in August 1915. His military career developed in late 1916 when he was attached to the King's African Rifles as part of 'Norforce', the Nyasaland & North-East Rhodesia Field Force under the command of Major-General Edward Northey. Their task was to push back the German forces, the Schutztruppe out of the region.
SUPPLEMENT TO THE LONDON GAZETTE, 8 FEBRUARY, 1917.
East Kent Regt.—The undermentioned Officers are seconded for duty with the King's African Rifles. 18th Nov. 1916: —
2nd Lt. (temp. Capt.) L. H. Lloyd.
2nd Lt. T. P. Owens.
2nd Lt. (temp. Lt.) E. Sharp.


The operations of 'Norforce' and its campaign in East & Central Africa can be found in a Ross Anderson article, TPO was in the
1st Battalion KAR
.
By the beginning of 1918, the KAR pursued the German troops across Mozambique and beyond. Although the majority of 1918 would be spent chasing the elusive Germans, the KAR would fight sharp engagements, TPO excelled himself and was mentioned in despatches in August 1918.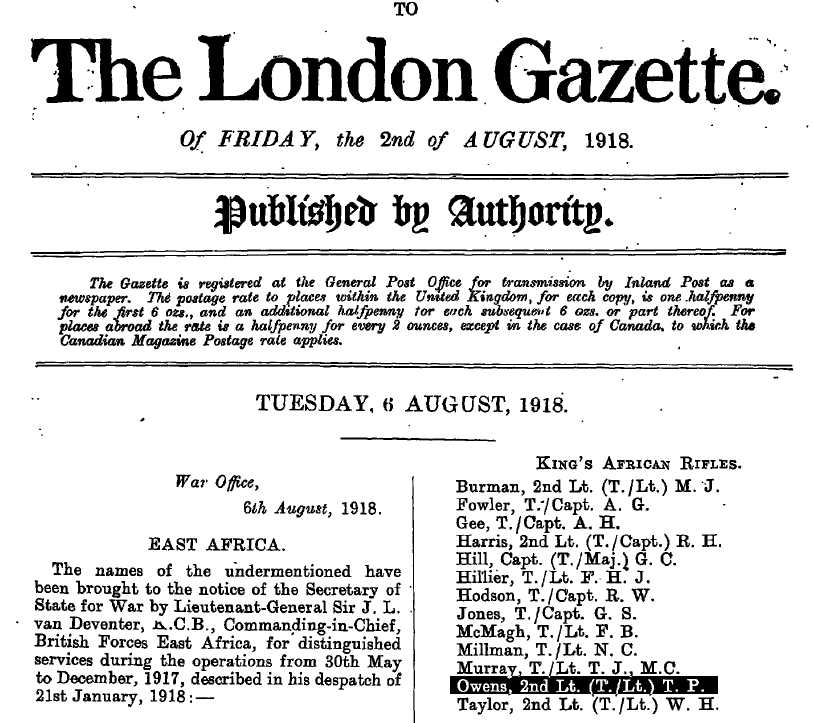 After the Great War TPO stayed with the military as a commissioned officer at The Verne, Portland, Dorset soon becoming Governor at the Borstal Institution there. This was a position which he absolutely loved, working with young people was his huge strength. He married a South African civil servant in 1921 and spent the next few decades around the south of England as an Inspector in the Childrens Branch of the Home Office.
On 5th November 1940 their only son Bill (Richard Frank Owens), was lost at sea. He was midshipman on HMS Jervis Bay which was escorting a convoy across the Atlantic. They were sunk by the German battleship the Admiral Scheer, and their captain was awarded the VC for his bravery. This loss was of course a huge blow to them all.
In the New Years Honours List of 1951 TPO was awarded the C.B.E for his diligent work.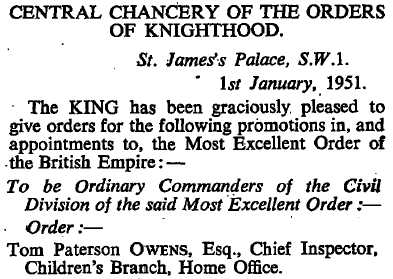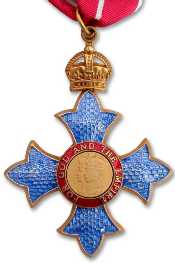 Commander of the Most Excellent Order
Tom and wife Emily went out to South Africa first in 1949 when oldest daughter Jean married in Pietermaritzburg, Natal, South Africa. In 1951 they left Weybridge and returned to Natal to live on the sugar cane farm near Mtunzini, and later moved to Pietermaritzburg. Their younger daughter Elizabeth (Kimber) had settled in Dargle which was not far away. After Emily's death in 1961 Tom went to live with Jean and her family where he was so loved. He died in April 1968. Emily, and later Tom, were buried at the little church in Dargle.
Tom passed away in Dargle, South Africa in 1968



[photo from http www.graves-at-eggsa.org]


[Thanks to local resident Gordon Hall for this photo and transcription]
Tom's grave is on the left and the headstone reads:
In memory of Tom Paterson-Owens
30-12-1888 - 20-4-1968
A beloved husband and father
Emily's headstone reads:
In memory of my beloved wife and our dear mother
Emily Gertrude Paterson-Owens
31-7-1894 - 13-2-1961
Dearly loved


Lt TOM PATERSON OWENS C.B.E.


(1888-1968)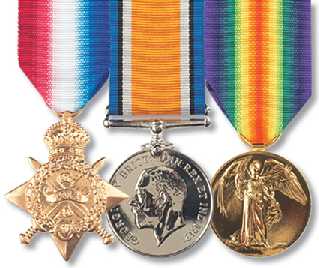 All Aliens RFC, Seft0n RUFC photographs, programmes and memorabilia Copyright © 2012 Sefton RUFC