Harold Edward Lionel Porter
Written and researched by David Bohl, with the kind help of the Climbing Club, the Alpine Journal and the residents of Sutton Courtenay.
Born in Birkenhead, Merseyside in 1886 Harold "Ned" Porter was educated at
Charterhouse
, Surrey and
Corpus Christi
, Oxford where he gained a First in Mods [Classics].
He was a keen sportsman and represented their Cricket XI, and played Fives, an Eton handball game.
His life was mapped out at a really early age when Herbert Mallory became Vicar of St John's Church, Birkenhead and his son George befriended Harold at school. The young George, aged eight, had his peers in awe as he would climb the downspouts with cat-like sure-footedness, Harold paying out the rope through the bedroom window. Their camaraderie grew immensley, their skills perfected in the mountains of North Wales where Harold had become a renowned technician. A Climbing Journal notes them at the Pen-y-Pass Hotel in Snowdon in the Spring of 1914.
Okay, have you twigged it yet ? Harold's schoolfriend was

the

George Mallory who in 1924 may have been the first man to climb Everest. He was sadly killed with his partner Sandy Irvine in an avalanche, they were last seen by observers very near the summit but disappeared into the clouds. It is not known whether they were ascending or on the way down when the accident happened, see

EverestNews

.

[Sandy Irvine and George Mallory 1924 - Together back left]


See also

The Footless Crow

By the outbreak of the war Harold was a Master at

Radley College

, a boarding school in Oxford, and in 1915 he joined the Royal Engineers.
As a 2nd Lt in the19th Company he entered the fray of the Somme in 1916, his unit was a
Field Survey
team principally to organise production of the tens of thousands of trench maps. He was Mentioned in Despatches on two occasions and now a Captain in the 20th Light Division he was awarded the Military Cross.
Acknowledgement of Military Cross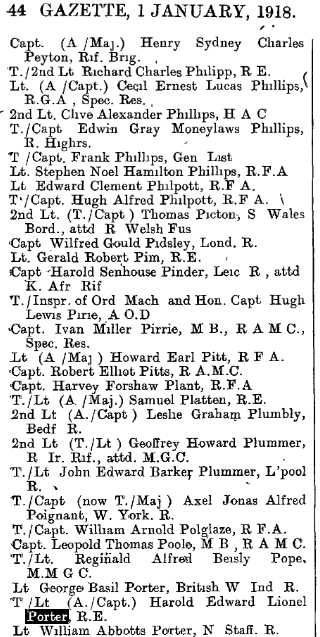 He came through the war physically fit and in the summers returned to climbing in the Zermatt and Mont Blanc districts and the Oberland. Together with Mallory, Bicknell and Leslie Shadbolt notable ascents, new routes and traverses were plentiful. In 1919 Harold was elected to the Alpine Club (he became Vice-President in 1953).
It was, however, in New Zealand that he made his most unique contribution to mountaineering. In eight seasons from 1923, he ascended almost every important peak, most of them several times and by new routes. Marcel Kurz was a foremost exponent of winter mountaineering in the Alps, climbing achievements included the North faces of the Matterhorn and the Eiger. The greatest dream of Kurz was to climb and explore further afield in other continents. It came true in 1926 when he was invited by Harold to join him in exploring the Southern Alps of New Zealand. They did a new traverse across the difficult ice peak Mount Tasman.
[Many thanks to Claude Elliott and R.Scott Russell of the Alpine Journal 1974]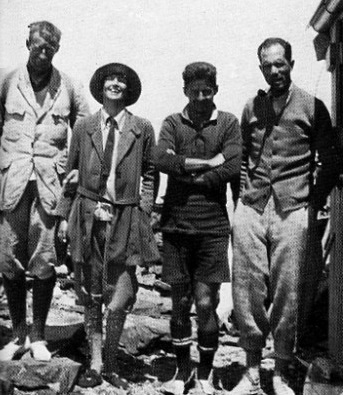 [Ned and Doris Porter, Lud Mahan and Marcel Kurz: 1927 (NZAJ 1980]
On the 8th March 1927 a wedding of special interest to Canterbury(NZ) people took place at St. Thomas's Church, Woodbury when Miss Doris Studholme Barker, of Waihi, Woodbury, was married to Mr H. E. L. Porter, of Shrewsbury Road, Birkenhead, England. Later in the afternoon Mr and Mrs Porter left to catch their boat for England.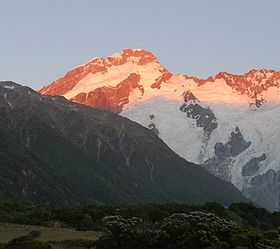 How is this for coincidence, he conquered the10,338 ft
Mt Sefton
!
His last climb in NZ was in 1935.

By the outbreak of WW2 Harold had retired from schoolteaching and was living on "The Green" in Sutton Courtenay, Buckinghamshire. He didn't rest on his Oak leaves and became the Head ARP warden, hopefully a more pleasant character than the antagonistic Hodges in Dad's Army.

When old age came, and paticularly athritis in his hands, barred him from the high peaks he was quite happy hill walking in the Alps, Norway and the Dolomites with his wife and sometimes Marcel Kurz. He was often seen sitting in the huts knitting away in silence.

In 1984 a lodge was built in the Fox Glacier Village with moneys bequeathed to the club by Doris Porter. The H.E.L.Porter Memorial Lodge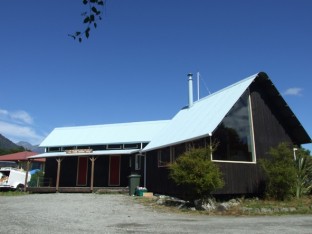 [photo the AlpineClub.org.nz]

Memories of Mr H.E.L.Porter - a special recollection by a Sutton Courtenay resident for Sefton RUFC

He and his wife lived at the house on the Green now called Bekynton House.
Both were tall and slim, and 'tweedily' dressed. Mrs P wore brown woollen stockings and wore her hair in a severe style (as per ex Edwardian schoolteacher!). My paternal grandfather was their gardener after he retired from the Manor gardens after the 2nd World War.
At the age of about 9 -10 years old, I used to spend some Saturday mornings in the large kitchen garden across the back lane from the Porters' house and flower garden. The kitchen garden (now a new house 'Swan Acre') had very high brick walls, upon which grew peaches, pears and figs. Grandfather would sometimes pick me a ripe fig to eat as a treat. He taught me how to graft cuttings (probably roses), binding them carefully with raffia.
Mr Porter was delighted when I gained a County Scholarship from the old village school, to go to St Helens School, Abingdon in 1948. He had several times helped me with general knowledge quizzes in the holidays (we were allowed to ask people).
He spent a good deal of time abroad, mainly mountain climbing in New Zealand. They were very reserved, knowledgeable people, and very pleasant to know.
Ned Porter passed away 1973 in Abingdon, Oxford
| | | |
| --- | --- | --- |
| | | |
| | Victory Medal with Oak Leaf for Mentioned in Despatches | |
Capt. H.E.L Porter MC

(1886-1973)



All Aliens RFC, Seft0n RUFC photographs, programmes and memorabilia Copyright © 2017 Sefton RUFC