Private J.B.Humphrey - The Alien Who Never Was


Written and researched by
David Bohl
, with the kind help of the experts on The Great War Forum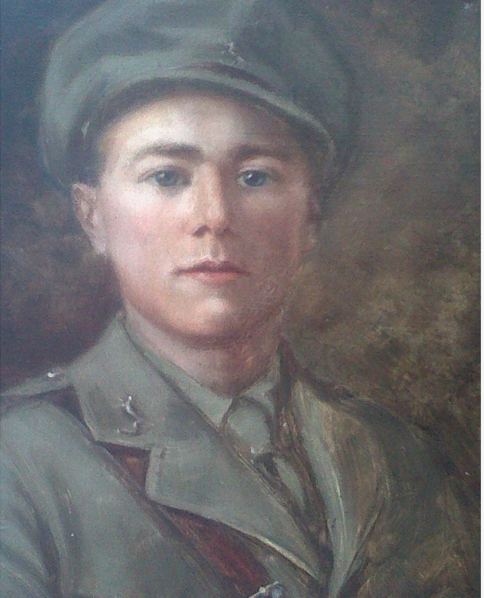 [Portrait courtesy of James Humphrey-Evans]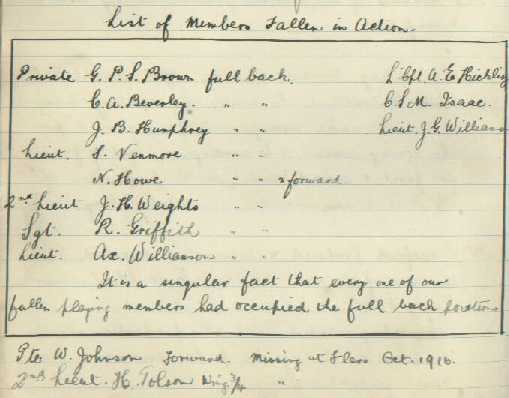 The mystery of Private J.B.Humphrey (JBH) has languished on the club records for over a hundred years now, no record exists on the Commonwealth War Graves Commission website and if he had died 'broken in health' after the cut-off date of 31st August 1921 there is no civilian death record either.
An initial candidate I came up with many moons ago was 2nd Lt Idwal Ben Humphrey (IBH) of the King's Liverpool Regiment but dimissed him because of his initials and his rank.

We know from Fred Applebee's beautifully kept 'school register' type records he played 10 games for the 1XV and 2XV in the 1913-14 season.

[Note: J.B.Humphrey is playing in the full-back position on the team sheet]

He joined the club on the 6th September 1913, the proposer looks as if it was entered at a later date.

The keen eyes of the Great War Forum (GWF) suggested that perhaps JBH may have been a friend or work colleague of his proposer Gwilym Madoc-Jones, a bank clerk apprentice by the 1911 census. A quick look at my notes revealed a number of banking staff :-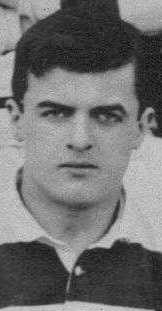 Gwilym Madoc-Jones - bank clerk
Trevor Madoc-Jones - bank clerk
H.A.Smith - bank clerk
H.Bateman - bank clerk
J.R.Whittle MC - bank clerk going on to manager at Martins Bank
See team photos:-
GWF brought up details from "A History of the 2/6th (Rifles) Battalion King's Liverpool Regt" by Capt C.E.Wurtzburg containing a Rifleman J.B.Humphrey.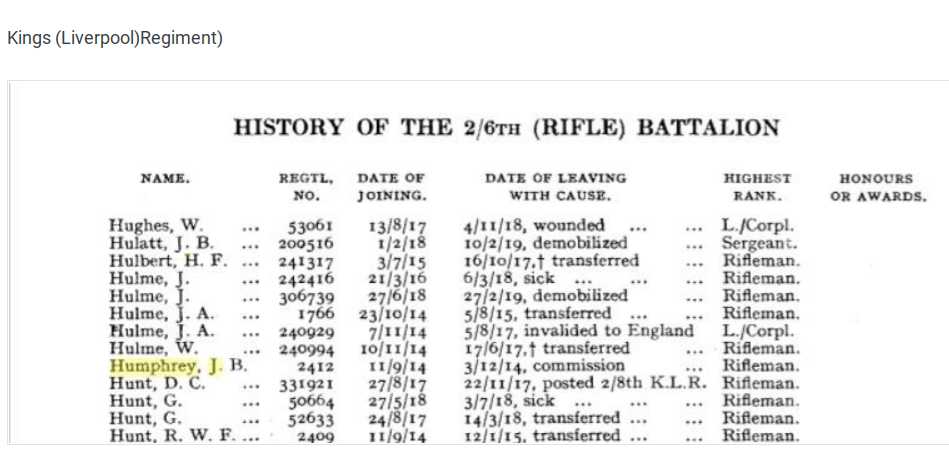 ...and who should pop up also in the book, Private Gwilym Madoc Jones 2955, same Regiment and joining up a few months later.

Liverpool Daily Post 25th September 1916
HUMPHREY - September 14, died of wounds, in his 21st year, Second-Lieutenant Idwal Ben Humphrey (K.L.R.), youngest son of the late William and Alice Humphrey Jones, Hendrewaelod, Glan Conwy
GWF now focused their attention also on Idwal Ben Humphrey, a newspaper obituary is found that reveals a crucial piece of evidence.
Liverpool Echo 22nd September 1916
So Idwal Ben Humphrey worked in the bank on Castle Street, things are now indicating the fact that JBH and IBH may be of the same person, can we prove it ?
Peter (PRC) on GWF observes:-
[Idwal Ben Humphrey, born Jones at Liverpool circa 1895 was proposed as a member of the Sefton RUFC by Gwilym Madoc Jones, born Liverpool circa 1895 and both end up accepted to play for a team of schoolmasters - anyone else suspect star students or even relatives :-)
Idwal Ben Humphrey, a Bank Clerk, is proposed by Gwilym Madoc, Bank Clerk - what's the betting its the same bank.
I would suspect it would be difficult even in a city the size of Liverpool to turn out 15 teachers in a competitive side so some dilution is inevitable, particularly if it brings quality to the team.]
His employment with the City and Midland Bank in Liverpool started on 12 August 1913, less than a month prior to him joining the Aliens.
IBH and a T.Madoc (brother of Gwilym Madoc Jones) appear on the Midland Bank War Roll
According to History of the 2/6th JBH left the battalion on the 3rd of December 1914 to be commissioned. The only way anything could be proved would involve a trip to the National Archives at Kew in London and pull the Officers Record File, but as an off-chance I knew the Museum of Liverpool Life at the Pier Head had an online resource to the King's Regiment known as the Devereux database.
Bated breath, heart pumping, trepidation, the letters are typed in on the screen.....
Bullseye !
The screen says "He originally enlisted in Liverpool on 11/9/14 and was posted to 6 KLR as
No. 2412
, was 5 foot seven and 140lbs"
[Devereux database available at Museum of Liverpool Life]
History of the 2/6th states Humphrey, J.B 2412 is commisioned on 3rd December 1914 and this matches perfectly with the narrative contained on the Devereux record for I.B.Humphrey.
So welcome to Sefton Rugby Club, step forward 5'7" and 10 stone full-back 2nd Lt Idwal Ben Humphrey, he must have been quick !
He may have been J.B in his earlier days, was it a nickname or something ?, more than likely there was a misinterpretation of a cursive ' J ' and a cursive ' I ', or had he 'gone posh' and returned to his given name on being commissioned ?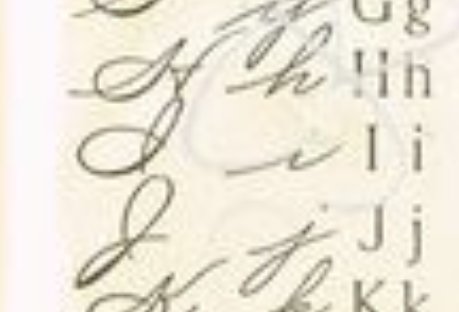 [Idwal B. Jones living at Hendrewaelod
Mansion
, Llansantffraid Glan Conwy in 1901, aged 5 yrs.
Living with father William H. and mother Alice.
You can see that William and Idwal were both born in Liverpool, Alice in Somersetshire, and although William spoke Welsh (and English), Idwal spoke only English.
It was unusual (but not unheard of) for that era for children to drop the family surname in Welsh families.
The Welsh system of surnames was based on patronym persisted widely into the first half of the 19th century, whereby if Humphrey Jones had a son, Idwal, he would become Idwal Humphrey.But by the mid 1800s, the Welsh had switched to the English surname system.
That explains why there are so many Jones', Davies' & Williams' in Wales-. There were only a relatively few christian names in use in Wales at the time- John, David, William, Thomas, James etc, and when the switch to the new system occurred (it didn't happen overnight) , the commonest surnames turned out to be the commonest christian names of the previous generation.
The earliest male ancestor of mine in my father's direct line was a James Davies. His son was Evan (b1788) and was Evan James. The family stuck with that surname rather than Davies.
But in many areas of Wales, the patronymic system survived another half century or more.
And we see this commonly today in Wales where it is quite fashionable to drop the standard anglicised surname.
But I think we are seeing a slightly different thing here:
A prosperous man, a chemical manufacturer/merchant from a Welsh family background born in Liverpool and whose father was keen for the son to prosper in the Victorian/Edwardian Society.
They do after all, live in a mansion, not in a
Plas
or on a farm
'Jones' perhaps just a little bit too common for him, so that was dropped in favour of 'Humphrey' as a surname, sometime between 1901 and 1911 when he appears in private school in the Isle of Man.]
contributed by Dai Bach y Sowldiwr on GWF.


2nd Lt Humphrey of the 14th Battalion of the King's (Liverpool) Regiment sadly died of wounds on the 14th September 1916, most probably from the consequences of operations on the previous day in the Battle of Machukovo, now in Macedonia.
Between 13th and 14th September 1916, during the Salonika Campaign, the King's (Liverpool) Regiment and Lancashire Fusiliers stormed and took the village of Machukovo which was held by German forces. The village was too exposed to the enemy's artillery fire, and the British were forced to retreat.

[The Almanac of WW1]

The following quotation comes from the third volume of Everard Wyrall's "The History of the King's Regiment (Liverpool) 1914-1919", page 591, location Macukovo Ravine:
"At 9.30 p.m. Second-Lieut. Bryson and Second-Lieut. I. B. Humphrey took out patrols to investigate the enemy's wire, the latter officer becoming mortally wounded in carrying out his orders; he died on the 14th."
The main fighting took place the next day, so it seems that he was wounded during a pre-battle reconnaissance. There aren't any other references to Humphrey in that book, I'm afraid, other than listing his death in the depressingly long list of casualties in the index. [Thanks to Scott Roberts]

[photo geograph.org.uk]
[Effects returned -
Ancestry.com
]
Oxford and Cambridge Exams 1912 -

IMuseum 14th September 1912

I.B.Humphrey takes French, Arithmetic and English History
[Photo - LivesOfTheFirstWorldWar]
2nd Lt Idwal Ben Humphrey
(1895-1916)
Karasouli Military Cemetery, Greece

[Photo courtesy of James Humphrey-Evans]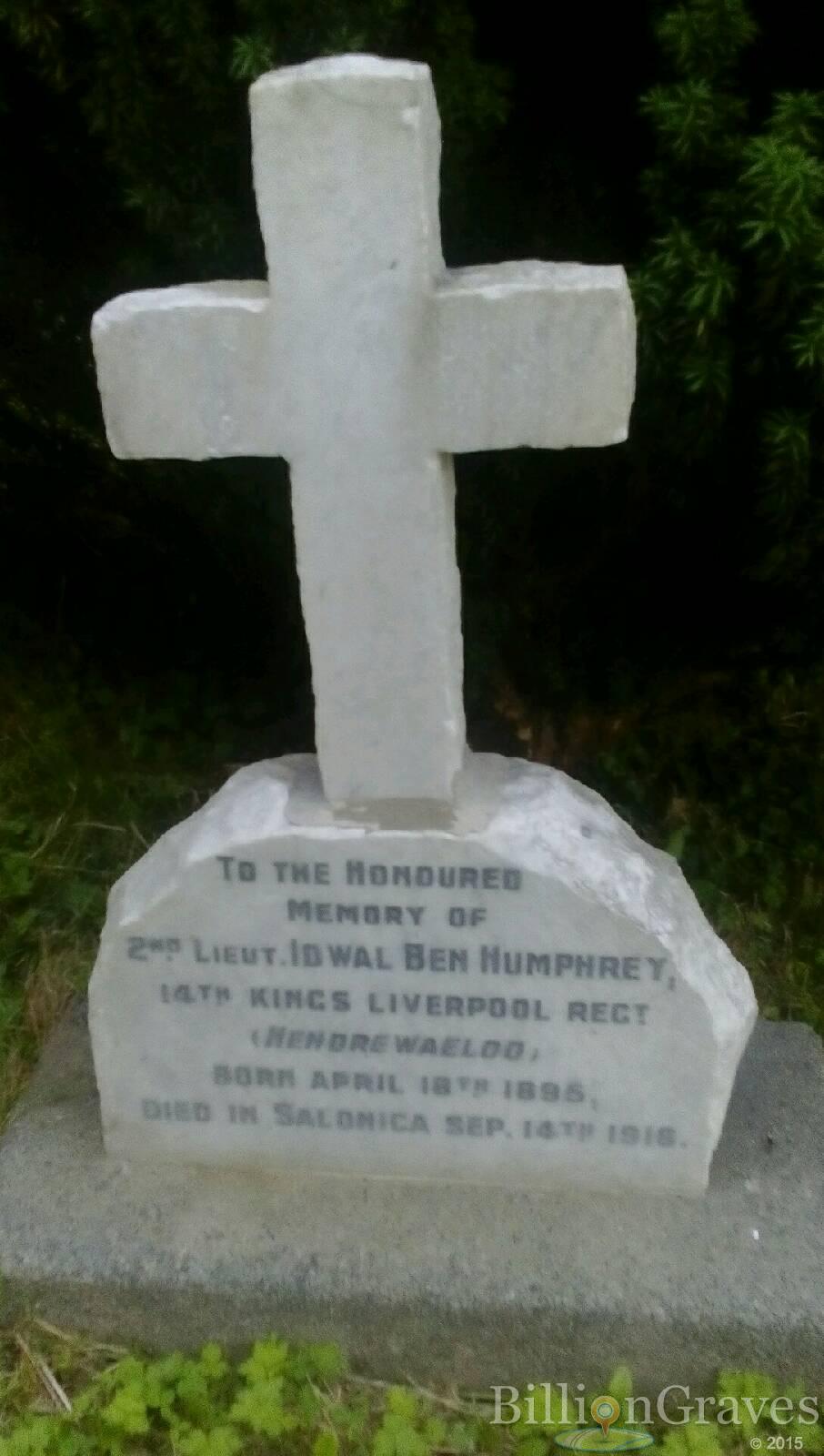 [photo billiongraves.com]
This article appeared in the newspaper in 1924 and left us with an interesting quotation.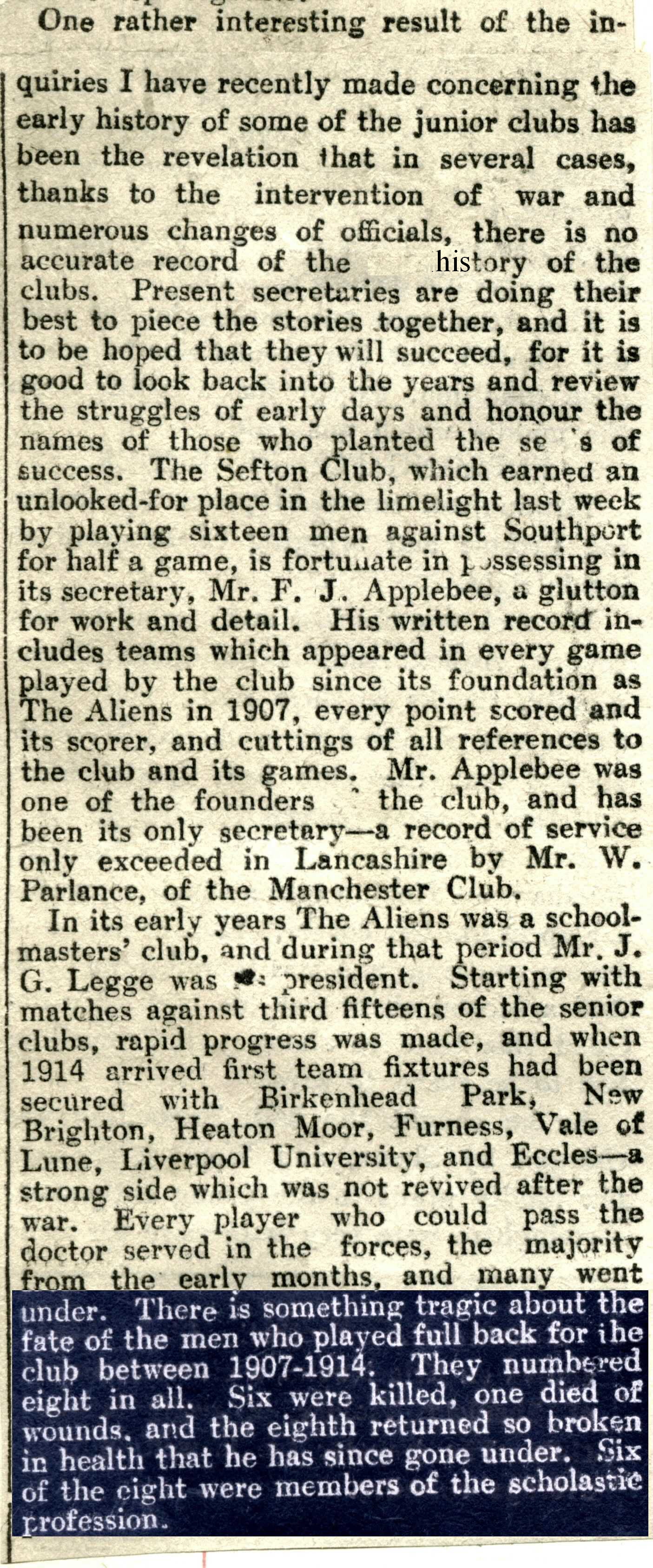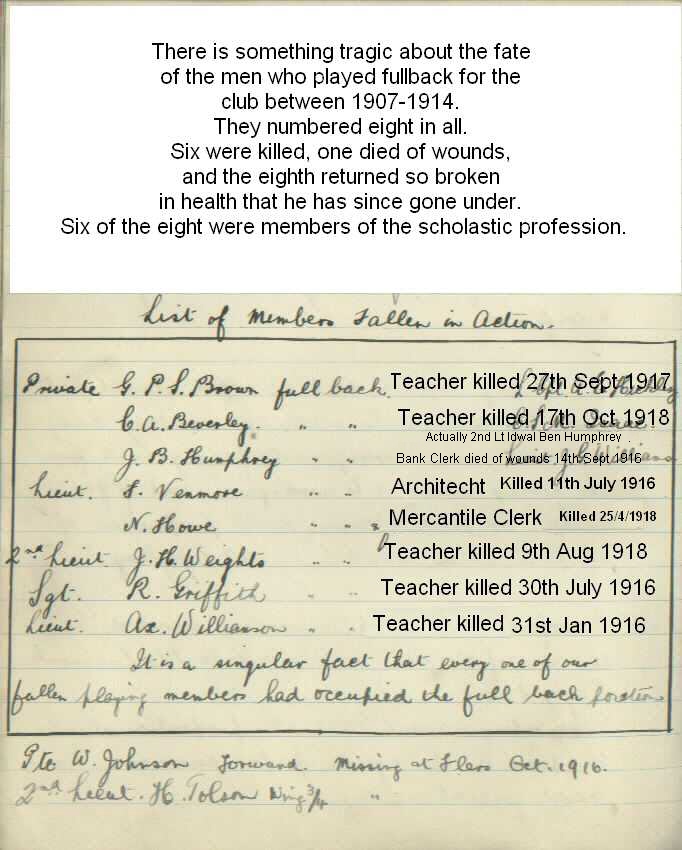 The comments may have been from Applebee himself or they may have been from an ill-informed, enthusiastic journalist some 6 years after the war in 1924.
We should have deduced that JBH was from the scholastic profession and was the guy who died in broken health between 1918 and at the latest 1924.


We can now identify at this moment in time IBH was the poor chap who had "died of wounds" .

So that leaves us with just somebody who had "returned so broken in health he has since gone under".

Further research has come up with the likely contender in H.W.Mitchell who was a founder member of The Aliens and sadly passed away in January of 1924, this fits in well with Fred's newspaper article.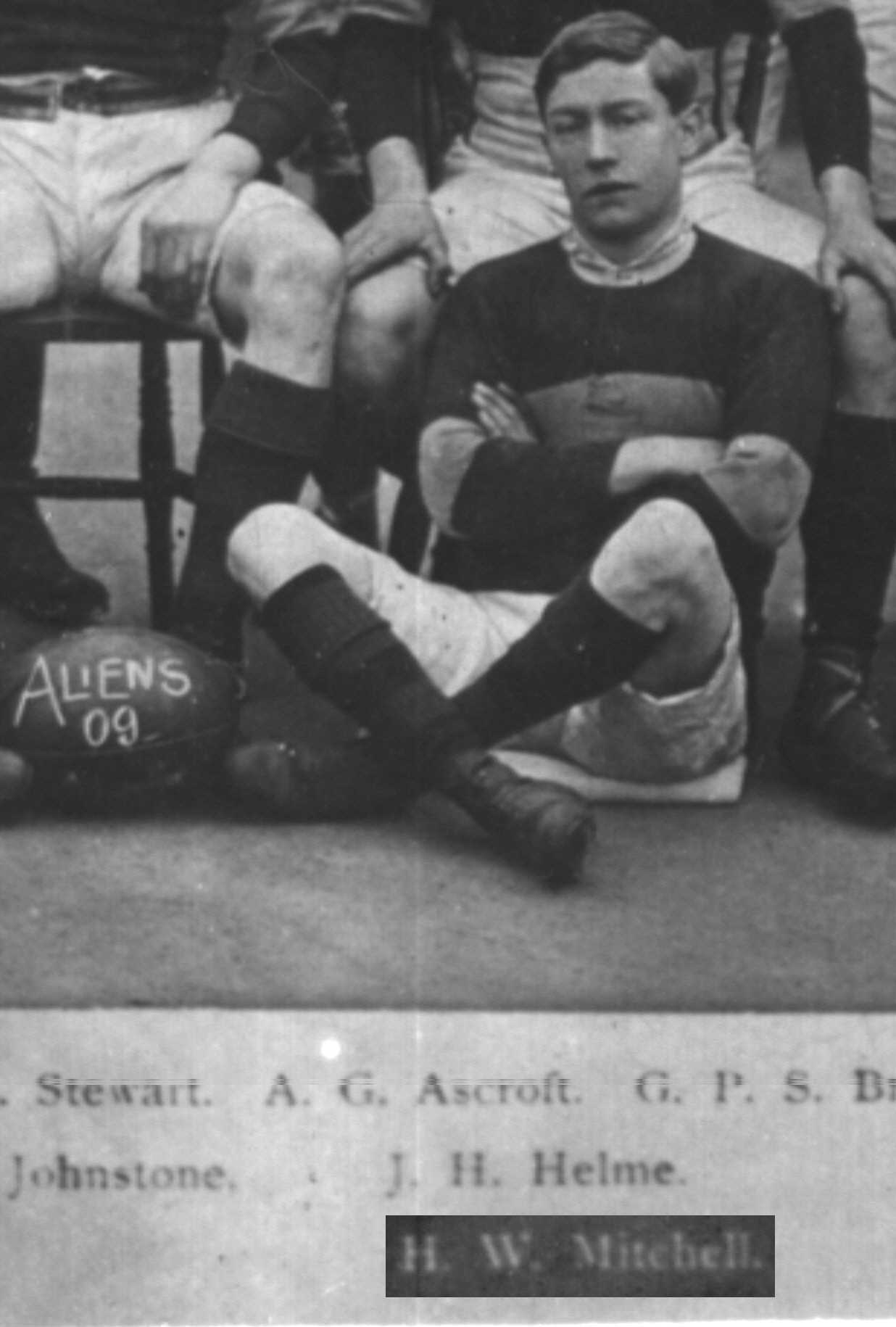 Hugh William Mitchell was born in Bristol 1885, attended Borough Road Teacher Training College in London with what turned out to be a few of his team mates and moved up to Liverpool in 1906 for a teaching post at Upper Park Street Council School.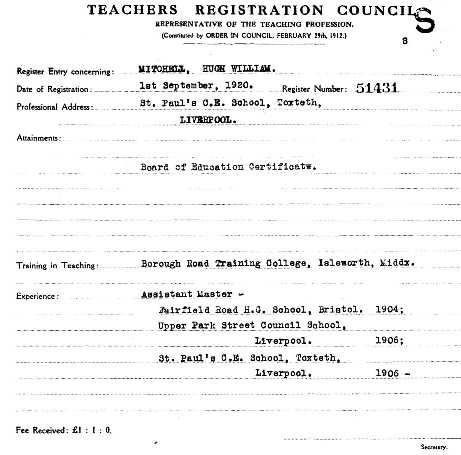 [FindMyPast - Teacher Registration]


Shortly after the outbreak of the Great War, Hugh enlisted with 1st West Lancs Field Ambulance and was lucky enough to miss out on the disastrous 29th Division operation of Gallipoli.
Looking at his team photos he looks a very slight person and perhaps he was deemed not strong enough to go overseas.
He continued with active service 'On the Second Line' but something serious happened to him in mid-1915 and he was discharged receiving the
Silver War Badge
.
His Silver War Badge declaration states there was
no
overseas service.
[Ancestry - medal entitlement]

Paragraph 392 (XVI) of the King's Regulations states:-
xvi) No longer physically fit for service, see
King's Regs
Perhaps he contracted tuberculosis or nephritis and was "so broken in health", however there was nothing in the King's Regs for mental illness as it was obviously a developing science.
Hugh married at the end of 1915 in Liverpool to a local lass Janet Maltman, but whether he returned to work is unknown. The teacher registration document states a date of 1920 but apparently this registration was only on a voluntary basis at the cost of one guinea (there were a number of local general strikes in 1919 to force employers to take back discharged soldiers into roles that had been taken by women).
It looks like his health deteriorated further and he returned to Bristol to be with close family, finally succumbing in January 1924.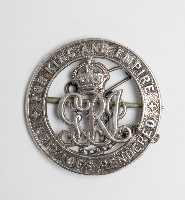 [Silver War Badge]

Pte Hugh William Mitchell

(1885-1924)
Once again well done The Great War Forum Pals !

All Aliens RFC, Seft0n RUFC photographs, programmes and memorabilia Copyright © 2017 Sefton RUFC