Stanley Dumbell O.B.E.
Written and researched by David Bohl, with the kind help of Liverpool University Archives and internet historians worldwide.
Stanley Dumbell was born in Liverpool in 1896, he was educated at Collegiate school and attended the University of Liverpool, although his time at university was interrupted by the First World War, he obtained a first-class degree in the Honours School of Economics. In 1920 he began his career as a lecturer in the Department of Commerce and also researched the mercantile history of his home city. In 1931 Stanley was asked to become the sole Assistant Registrar of the University of Liverpool and in 1937 he became the Registrar . He was awarded with the Order of the British Empire in 1952 and given an honorary degree of Doctor of Laws by the University after his retirement as Registrar in 1962. Stanley Dumbell was interested in economic history, especially that of his beloved city of Liverpool, a collection of his research papers are in the Liverpool University Archives.

He joined the Aliens Rugby Club based in Clubmoor where he played in the 1913-14 season.
The Aliens RFC 1913-14
Back Row J.MILBOURN W.G.THOMAS S.S.JONES S.J.BISHOP R.A.ROBERTS H.BAYLISS F.J.APPLEBEE R.L.KNIPE
Middle Row H.BATEMAN S.DUMBELL H.N.ELLIS W.B.CROXFORD(Captain) H.A.SMITH J.H.WEIGHTS R.G.GRIFFITH
Front Row W.JOHNSON D.P.McCARTHY H.COWPER J.R.WHITTLE
[Wins a story contest 1914]

WW1 Joins Liverpool King's Regiment - 1918

Temporary Commission in Royal Flying Corps - 1918
To the Unemployed List - 1919

Committee Meeting held at Gainsboro' Cafe 16.4.1920
One of our members R.A.O'Donnell played for Lancashire v Northumberland and scored two tries. His play was highly commended in the press. S.Dumbell, and Alien trained player, now with University appeared v Durham, and F.Outhwaite was first reserve v Cheshire.
Dumbell Papers in Liverpool University Archives
Stanley Dumbell lectured in the Department of Commerce at the University of Liverpool from 1920. The papers were bequeathed to the University in 1966.

Taxation in relation to the accumulation of capital

1920

The cotton market in 1799

1926

Senate serenade

1962
The Dumbell papers are a small collection of manuscripts relating to the shipping and slave trade, the majority of the papers consist of original documents such as papers relating to the fitting out of 18th century vessels. One contains information on trade with West Africa gathered by a Liverpool merchant in the 1830's, the collection also includes manuscripts relating to eight slaving voyages from Liverpool to Africa between 1782 and 1807, these give a full account of cargoes carried, with prices, disbursements for equipment and services, lists of seamen, sales of slaves, and owners instructions to the masters. The collection also includes a notebook of Stanley Dumbell's on the cotton trade, economics and education which includes newspaper cuttings and proofs of articles written by Dumbell.
Awarded Commission - 1941
The Liverpool University Air Squadron reports "Opened on 13th January 1941 with Wing Commander (Wg Cdr) H. H. Martin RAF as Commanding Officer, Mr Stanley Dumbell (the University Registrar) who had been a pilot in the Royal Flying Corps and Mr E. B. Cole a Lecturer in Mechanical Engineering were invited to take part-time commissions. A telegram to the latter read 'Commission approved, get uniform and raincoat, not overcoat' showing the serious state of the countries finances in those days! " (See Appendix)
Merseyside Planning Contest 1944
WW2 - Special Responsibility for his "Integrity"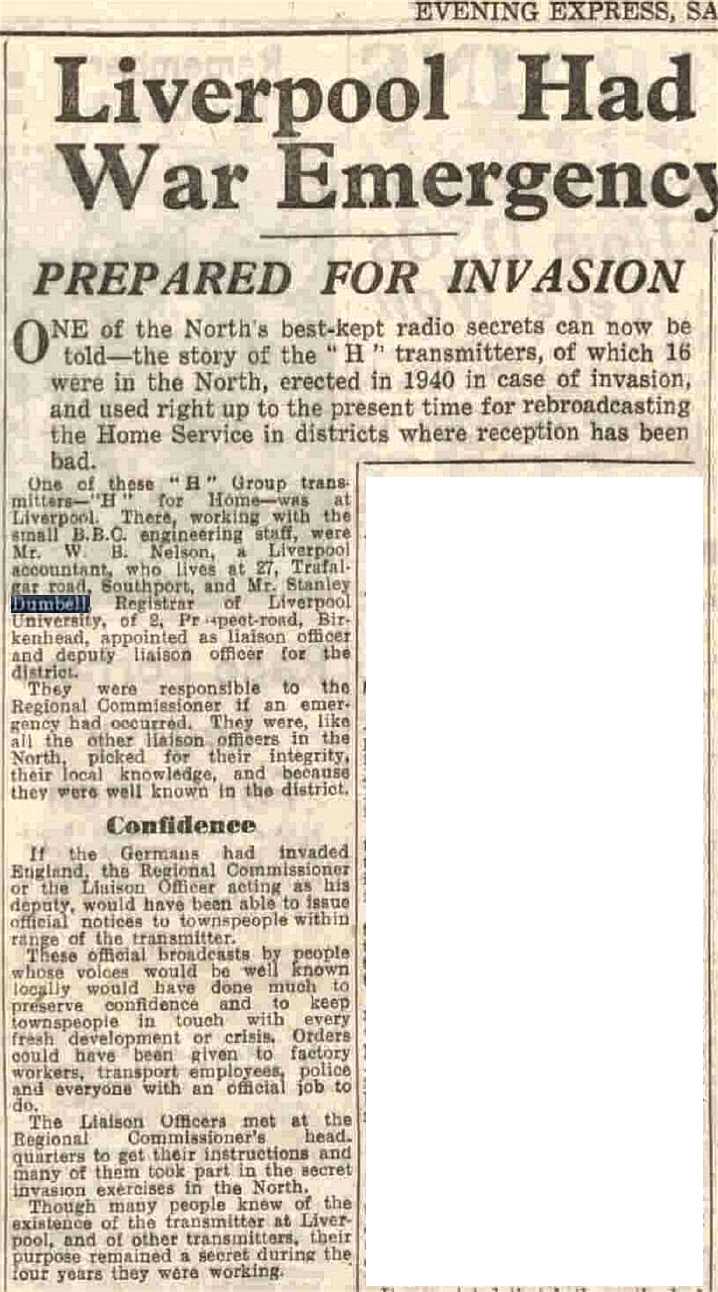 On 1 September 1939, the BBC merged the two programmes into one national service from London. The reasons given included the need to prevent enemy aircraft from using differentiated output from the Regional Programme's transmitters as navigational beacons. To this end, the former regional transmitters were synchronised in chains on (initially) two frequencies, 668 (South) and 767 kHz (North), with an additional chain of low-powered transmitters (known as "Group H") on 1474 kHz appearing later.Under this arrangement regional broadcasting in its pre-war form was no longer feasible, but much of the programming was gradually decentralised to the former regional studios because of the risks from enemy attack/bombing/invasion in London, and broadcast nationally.
The new service was named the Home Service, which was also the internal designation at the BBC for domestic radio broadcasting (the organisation had also had Television Service and Overseas Service departments). See Old BBC
[1945]

Awarded the O.B.E -1952

Stanley passed away on 19th January 1966 in Wallasey

Stanley Dumbell M.A. O.B.E

(1896-1966)
Appendix

History of The University Air Squadron
Originally formed as part of the Air Training Corps, twenty three University Air squadrons had been established by August 1941. The aim of University Air Squadrons was to prepare graduate volunteer officer candidates for war, as aircrew. Officer candidates for the Royal Air Force were posted to Universities and attached to Squadrons through a Royal Air Force Pre-Entry University course. This consisted of a twelve month graduate course condensed into six months. Very limited flying instruction was given with the aim being that of solely providing air experience, in order that the instructors could assess the student's potential for aircrew.
Successful students were awarded Efficiency Certificates that enabled them to commence flying training immediately on entering the Royal Air Force. They were sent to Grading School where, after some fourteen hours instruction on Tiger Moth aircraft, they were selected for training by the Service as pilots, navigators and bomb aimers, before attending an Officer Aircrew Training Centre.
Liverpool University Air Squadron was one of the earliest to be formed under the revived scheme. On 4th January 1941 a meeting of the University Military Educational Committee was convened to consider a proposal to form a University Air Squadron. The Committee gave its full support and allowed the use of premises at No. 10 Abercromby Square which was leased to the Air Ministry by the university to provide a Headquarters.
Opened on 13th January 1941 with Wing Commander (Wg Cdr) H. H. Martin RAF as Commanding Officer, Mr Stanley Dumbell (the University Registrar) who had been a pilot in the Royal Flying Corps and Mr E. B. Cole a Lecturer in Mechanical Engineering were invited to take part-time commissions. A telegram to the latter read 'Commission approved, get uniform and raincoat, not overcoat' showing the serious state of the countries finances in those days!
Whenever possible, cadets were given flights as passengers in service aircraft (usually with the Commanding Officer flying a Tiger Moth) at RAF Speke and RAF Sealand. In addition non-university applicants were accepted for training and all those who passed out into the Royal Air Force went directly into Elementary Flying Training (EFT) Wing as potential officers.
Work went on at a high pressure with university studies or squadron training by day and the German bombing of Liverpool by night. The Squadron Headquarters escaped except for slight damage from a stick of incendiary bombs.
Throughout the war years the Squadron helped to select and gave invaluable basic training to a large number of potential aircrew members, nearly all of whom went on to take part in Royal Air Force operations all over the world.
With the end of the war, however, the requirement for aircrew candidates rapidly diminished and there had been so many changes of staff both in the Squadron and University that a proper understanding of the true function of Liverpool University Air Squadron in relation to the University was lacking, so there was little resistance to the Air Ministry's decision, to close the squadron in common with several others on 30th June 1946.
In December 1950 the Squadron was reformed. In February 1951 Squadron Leader (Sqn Ldr) J H Gaston RAF was posted in as Commanding Officer. In March that year recruiting was started and in April the first twelve cadets were attested onto the Squadron. By June the Squadron strength numbered twenty four and elementary instruction in flying had commenced on Chipmunk aircraft. By July 1951 the Squadron was operating from Royal Air Force Woodvale. Today, Liverpool University Air Squadron also recruits from Liverpool John Moore's University, Lancaster University, University of Wales in Bangor and the University of Central Lancashire as well as their associated colleges.
When the University Air Squadrons became part of the Royal Air Force Volunteer Reserve flying training intensified. Initially equipped with Tiger Moths these were later replaced by Chipmunks. In addition, Squadrons were loaned a number of Harvards, Prentices and Provost aircraft. Today we fly the Grob 115E, otherwise known as the "Tutor".
In 1953 the Regional University Air Squadron de Havilland Trophy Competition was held for the first time and was won by Liverpool University Air Squadron.
During it's illustrious history, Liverpool University Air Squadron has won many accolades and trophies, recognising the sterling work that is put in by all members of the squadron; students and staff, civilian and military. Today Liverpool University Air Squadron stands as an example to today's youth of how the modern RAF works as a force for good in the world.
[http://www.raf.mod.uk/liverpooluas/history/]

All Aliens RFC, Sefton RUFC photographs, programmes and memorabilia Copyright © 2012 Sefton RUFC