Written and researched by David Bohl, with the kind help and documents supplied by historians worldwide.
Born around 1882 in Rochdale, Frank Taylor obtained his Matriculation Certificate from the University of London and went on to train as a teacher at Borough Road Training College. His first teaching post, from 1904 - 1906, was as assistant master at
Beaufort Street Council School
in Liverpool. He played for the Aliens in the 1910-11 season.
Preston Grasshoppers2nd v Aliens 2nd at Preston
WH.Evans, J.Rumjahn, E.Quine, FCW.Taylor, Hine, OE.Bayliss, H.Bayliss, J.Williams, D.Sloss, W.Sloss, N.Howe, WJ.Inglis, RF.Owens, TP.Owens, W.Parry, JEM.Brunskill, JWA.Taylor
Liverpool Echo 24th February 1911
During WW1 he was granted a commission in 1915 with the 7th Battalion of the Loyal North Lancashire Regiment and sent to France on 17th July 1915. At some point during the war he was transferred to the Machine Gun Corps. On relinquishing his commission on 1st September 1921 he was granted the rank of major.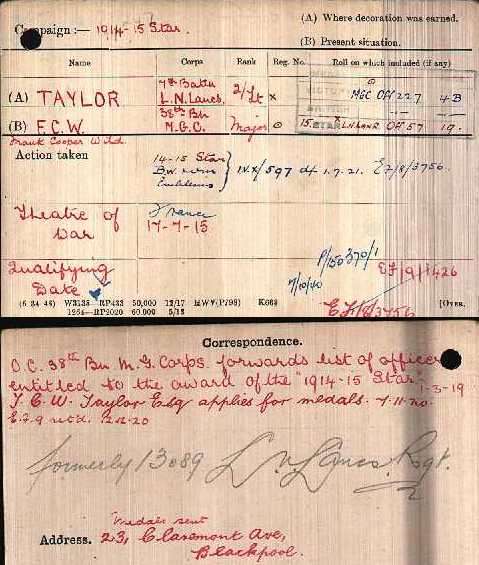 [ancestry.com]

He returned to his school in Blackpool and remained there until 1924 when he became an instructor for the Royal Air Force Educational Service. He married in 1929.
During WW2 he served as a flight lieutenant then squadron leader (with the rank of major) with the RAF administrative and special duties branch, and in 1940 took control of the headquarters at RAF Oakington in Cambridgeshire.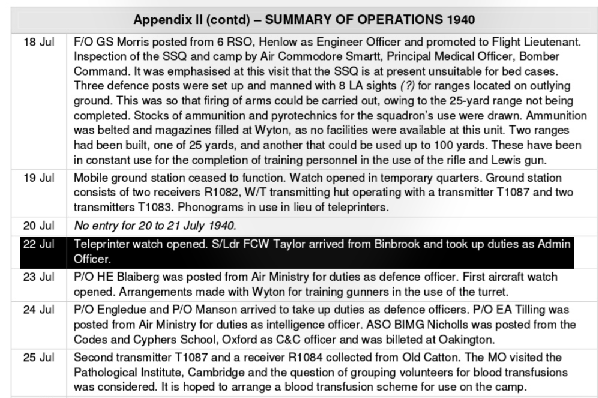 RAF Oakington was an immediate problem for Frank as it had no paved runways and was only able to take Bristol Blenheim light twin-engined bombers of 218 Squadron.
The shape of things to come presented itself in October 1940, when the first Short Stirling four-engined heavy bomber arrived.
See
http://www.ldhs.org/airfield-history-oakington-raf/raf-oakington-2/
Frank died on 13th August 1949 while watching a cricket match, at the age of 66.
Sqn/Ldr Frank Taylor

(1882 -1949)
All Aliens RFC, Sefton RUFC photographs, programmes and memorabilia Copyright © 2012 Sefton RUFC