This research project was inspired by a innocent post on the Great War Forum by fellow Merseysider, Richard Dalglish, alias "Daggers," entitled Pte William Thorpe, 8561, 1/King's Own Royal Lancaster Regiment.

Posted 11 April 2020
I have had 'A Foreign Field' by Ben Macintyre for several years but until going through the shelves for a good read, while libraries are closed, I found I had never read it.
It is a true story of a handful of British soldiers, separated from their various units in the German advances of 1914, who link up and are hidden by French villagers. The author clearly spent much time with the descendants and survivors of the villagers and was allowed access to local archives, but he does not allow his research to interrupt his narrative.
One of the soldiers is named as William Thorpe, from Liverpool, who had joined the King's Own Royal Lancaster Regiment in 1910 as a regular soldier and was 36 years of age in late 1914. He had a wife and three young children back in Liverpool, but no other details appear in the book about where he lived or his former occupation.
After many months in hiding the four main characters of the book are revealed to the occupying Germans, and after brief 'trial' were executed by firing squad in May 1916. Their graves lie in the village churchyard at Le Catelet, just north of St Quentin in Picardy.
I have not been able to trace William Thorpe's army records, as so many were lost in a WW2 bombing, but found that he was entitled to the 1914 Star, Victory and British War Medals, which were probably sent to his widow. The Star card shows his number as 8561. 'Soldiers Died in the Great War' has 'KIA', killed in action, against his name and has his number as '8501'. His entry on the Vic/BMW Medal Roll has '85#1', where the # is an obscure, possible deleted or corrected digit.The CWGC's Debt of Honour Register entry includes no family information. I have been told that the Soldiers' Effects dated 20 Sept 1919 shows they were sent to William's brother Alfred J. Thorpe, and not to his wife or widow. Would this give an address?
Without more detail of his wife's name or an address I have failed to find a census record for the family, which might be under one of the Liverpool districts: Kirkdale, Everton, Walton, West Derby, etc.
I would be very interested to know if more is known or can be found about this man.
Daggers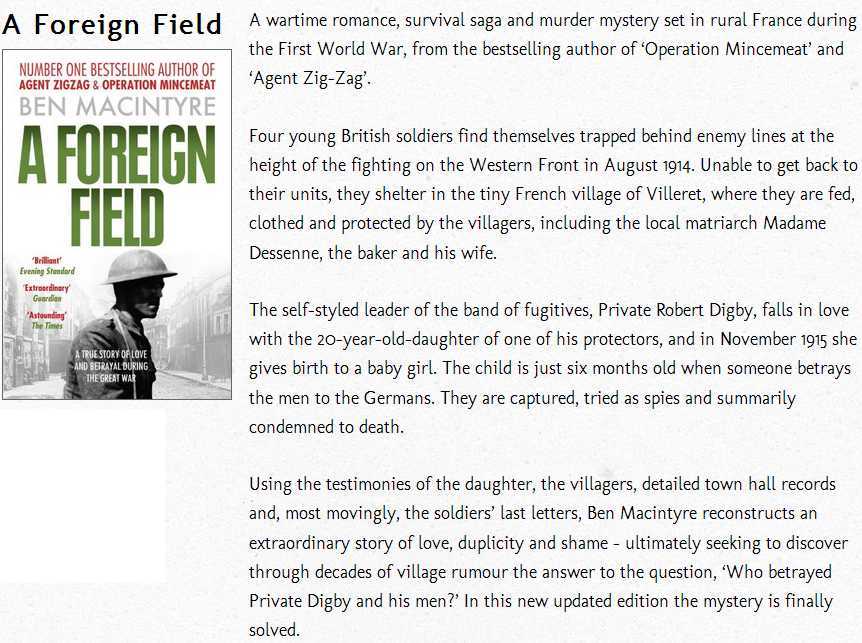 [benmacintyre.com/blog/book/a-foreign-field]



The complete research can be read here in this document in PDF format - Click Here