The Senior Vice-President at War
|
|
Major Charles William Wingrove MC and Bar
(b. 1889 in London d. 1976 Chester)

Written and researched by
David Bohl
, with the kind help of British Newpaper Archive and World War 1 historians world wide.
|
|

Charles was born in London 1889 and moved up to the Great Crosby area of Liverpool before the start of WW1.

He was nominated as a Vice-President of Sefton in 1935/36 and became Senior Vice-President in 1936/37.

|
|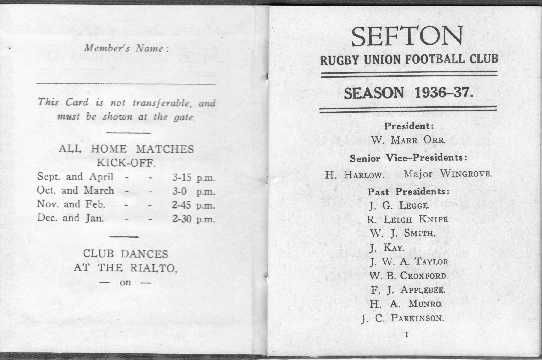 |
|
|
|
7th Battalion, King's Own Royal Lancaster Regiment, 1915

[photo: King's Own Royal Regiment Museum, Lancaster]

|
|

London Gazette Entry 1917 - First Military Cross

|
|
7th Battalion, King's Own Royal Lancaster Regiment, 1918
[

photos: King's Own Royal Regiment Museum, Lancaster

]


|
|


Awarded MC with 7th King's Own in 1917 and on disbandment of the battalion transferred to the Royal Warwickshire Regiment with whom he won a bar to the MC in 1918. Read more on his attempt to save the Battalion here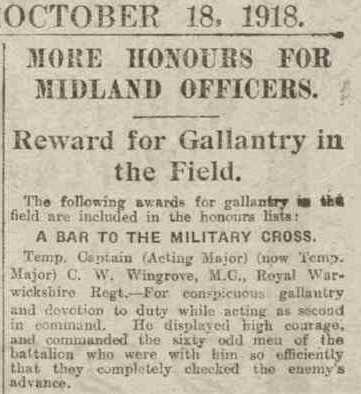 |
|


London Gazette Entry 1918 - Second Military Cross Citation (the Bar)


|
|

|
|


THE SHROPSHIRES FIGHT

How Captain Wace died

The following is an excerpt from a letter received by Mr M.Oppenheimer in Rangoon from

Major C.W.Wingrove

by the mail:—
Mr Miers has probably told you that I have left the sunny fields of France for the healthier if duller skies of Blighty. A 59 gave me my quietus at Neuve Eglise on the 14th of April. I copped it in the right leg but managed to get away all right. Had rather a bad time in hospital on account of gangrene but managed to save the leg and am now recovering rapidly in one of the best hospitals in London. Everything possible is done for us and no expense spared. Lady Northcliffe is a charming hostess and comes round to see us almost every day. A good lump of my right calf has been taken away but I think it will leave me fit for all ordinary purposes, although I don't suppose I shall ever play right half for the Gym any more. I don't know yet whether I shall be passed fit for service with the infantry again. I am prepared to go out again if ordered, but you can guess I am not particularly anxious for any more scrapping. Had a good run for my money—in every big battle from Loos in 1916 to the Boche attack in Flanders in April 1918 with the exception of Vimy —military cross and bar and twice men-tioned in despatches. Hope you won't think this blowing my trumpet but thought that now I am on the shelf, you would like to know how I have got on. Commanded a battalion of Royal Warwickshires in the Boche attack on the Somme March 21st and a battalion of Shropshires in his attack in Flanders in April. Strangely enough this battalion of Shropshires were the lot who were in Rangoon at the beginning of the war. Capt Wace who was out there with them was killed next to me by the same shell that got me. I don't regret for one little moment having joined the Burma Contingent.


[The Singapore Press August 1918]






After WW1 he became a very active Councillor for the West Derby area and still played rugby





[1939]






Oops !

[1945]





1942 - Very Worried about Son

Thankfully he was safe and a POW in Italy 1943, see

LancasterMuseum





|
|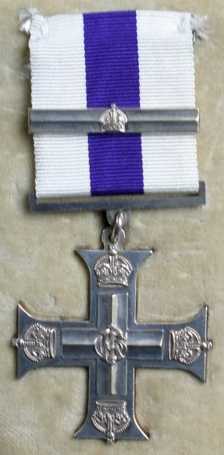 Military Cross and Bar
|
|
Charles passed away in 1976 in Chester
Maj. Charles William Wingrove MC and Bar
|
|
All Aliens RFC, Sefton RUFC photographs, programmes and memorabilia Copyright © 2012 Sefton RUFC