SEFTON R.F.C. CARNIVAL 2nd July 1932

Written and researched by David Bohl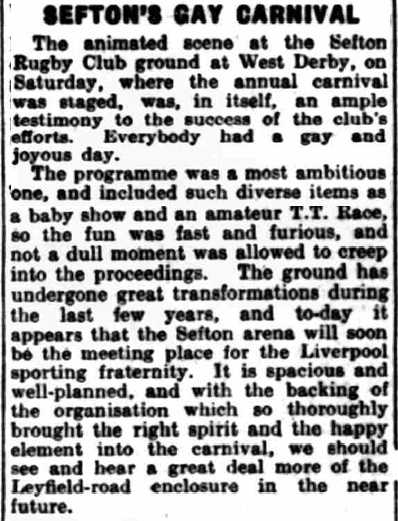 [Liverpool Echo 6th July 1932]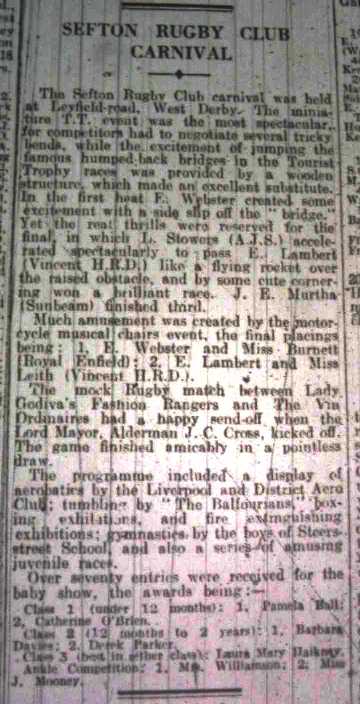 [Liverpool Daily Post 4th July 1932]


The Sefton Rugby Club carnival was held at Leyfield –road, West Derby. The miniature T.T. event was most spectacular, for competitors had to negotiate several trick bends, while the excitement of jumping the famous humped back bridges in the Tourist Trophy races was provided by a wooden structure which made an excellent substitute. In the first heat F.Webster created some excitement with a side slip off the "bridge." Yet the real thrills were reversed for the final, in which L. Stowers (A.J.S.) accelerated spectacularly to pas E.Lambert (Vincent H.R.D.) like a flying rocket over the raised obstacle, and by some cute cornering won a brilliant race. J.E.Murtha (Sunbeam) finished third.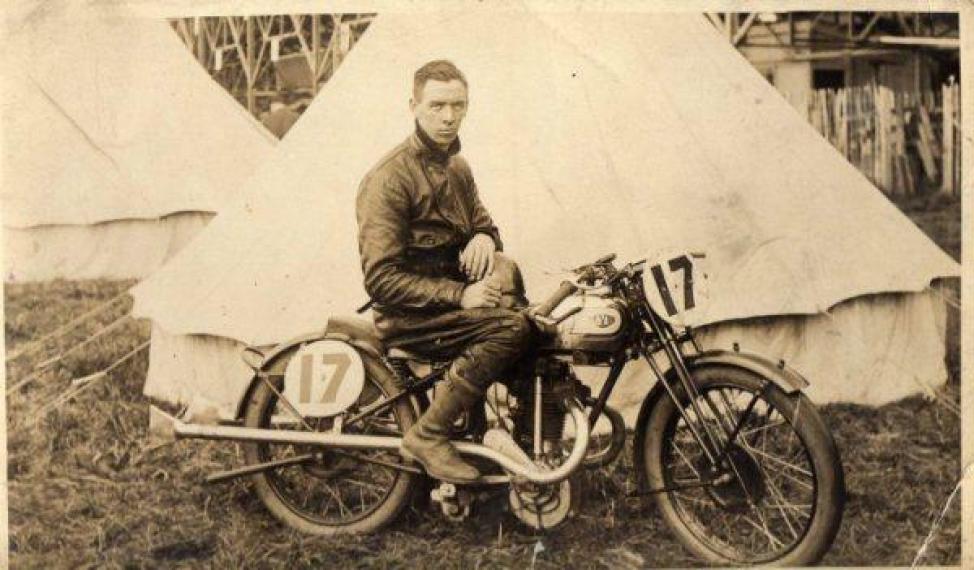 [Jack Leslie on his Levis]


Much amusement was created by the motorcycle musical chairs event, the final placings being: 1. E.Webster and Miss Burnet (Royal Enfield); 2. E.Lambert and Miss Leith (Vincent H.R.D.).
The mock Rugby match between Lady Godiva's Fashion Rangers and The Vin Ordinaires had a happy send off when the Lord Mayor, Alderman J.C.Cross kicked off. The game finished amicably in a pointless draw. The programme included a display of aerobatics by the Liverpool and District Aero Club;
Liverpool Corporation held an Air Pageant at Hooton as part of its Civic Week, this lead to the formation of the Liverpool & District Aero Club.
1928 to 1939, Hooton Park became the centre for civil aviation in the north of England. For three years it was also Liverpool's airport, being the first civic aerodrome in the North.
1933, Liverpool Corporation opened Speke Airfield as Liverpool Airport and the Aero Club moved there.[ControlTowers.co.uk]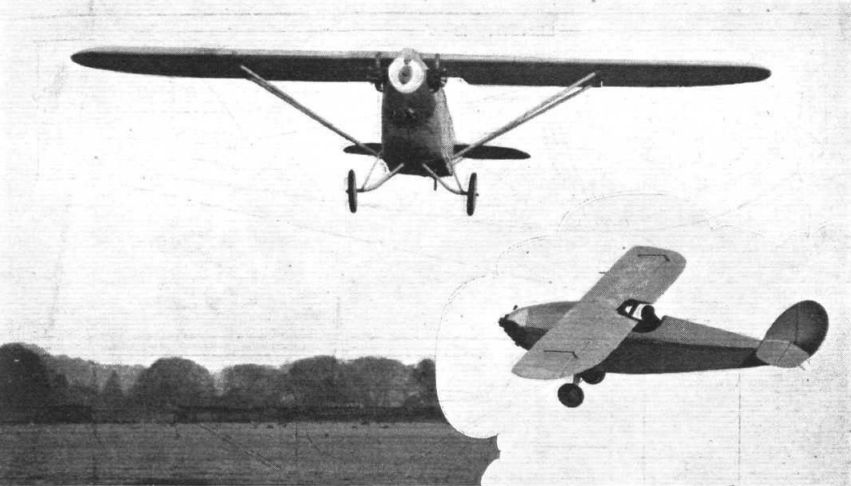 tumbling by "The Balfourians," boxing exhibitions; and fire extinguishing exhibitions; gymnastics by the boys of Steers-street School, and also a series of amusing juvenile races. Over seventy entries were received for the baby show, the awards being:-
Class1 (under 12 months): 1. Pamela Ball; 2. Catherine O'Brien.
Class2 (under 12 months to 2 years): 1. Barbara Davies; 2. Derek Parker.
Class3 (best in either class): 1. Ms Williamson; 2. Miss J.Mooney.

THE SEFTON RUGBY UNION
FOOTBALL CLUB
ANNUAL CARNIVAL
To BE HELD ON THE CLUB GROUND,
AT
THORNHEAD LANE, LEYFIELD ROAD,
WEST DERBY,
On SATURDAY, 2nd JULY, 1932
TO BE OPENED BY
Alderman JAMES C. CROSS, J.P.
LORD MAYOR OF LIVERPOOL
AT 2-45 P.M.
AERO DISPLAY BY A PROMINENT AIRMAN.

CARNIVAL EVENTS. MOTOR GYMKHANA.

BOXING- MUSIC AND DANCING.

Music will be Re-layed through Loud Speakers fixed at various points on the Ground by Messrs. DAVIS'S MUSIC STORES Ltd., 1-7, Arcade, Lord Street, Liverpool, Specialists in Radio and Electrically-Reproduced Music.
FOREWORD.
SEFTON R.F.C.
In 1907 a group of Liverpool schoolmasters decided to form a new Rugby club. At the inaugural meeting it was discovered that, of all those present, not one was Liverpool born. Some wag suggested that the club should be called "The Aliens," and the name was adopted.
The fixtures for the first season were all played away. There was no subscription; the expenses-less than £4-were met by levies when necessary.
For the following season a pitch was obtained on the Clubmoor Cricket Ground and a second XV. was formed. Later a larger ground adjoining Breck Road Station was obtained, and there the club played until the outbreak of war in 1914. Every playing member volunteered for active service, and eight made the supreme sacrifice.
On resumption, after peace was declared, the full playing strength of the club was found to be seven, but it was decided to carry on. Men were waylaid and forced to become Rugby players. Results were naturally very poor, but the membership increased. The name was changed to "Sefton," and the novices, under the capable guidance of N. W. Hutchings became a little less inexpert, while a more experienced class of recruit began to join the club.
The aim of the officials had always been to purchase a suitable ground. Mr. W. J. Smith arrived in Liverpool from Bristol, and Sefton made a brilliant capture. He immediately brought forward a scheme which, mainly through his own efforts and those of Mr. J. Milbourn, the treasurer, realised over £100, which was set aside as the beginning of a fund for the ultimate purchase of a ground. Mr. Smith and Mr. H. A. Munro were appointed trustees of this fund.
In 1928 Mr. A. N. Lockier discovered the present ground. Some members made handsome donations, others lent sums of of varying amounts, and Mr. Croxford successfully negotiated loans of £8oo from the Rugby Union, and £250 from Lancashire. We at last had a ground of our own. The playing abilities of the members began to improve. T. J. Llewellyn had joined the club, and his example and instruction had a marked effect in the open game which the team began to play. By the continuance of this type of game, the club hopes to secure the support of the surrounding district, and so provide a modern sports arena, which will be a permanent lung for the neighbourhood.
Three members of the club have obtained county honours, S. Dumbell and R. A. O'Donnell have represented Lancashire, and W. H. Masheter, Cumberland. The present captain, E. Winter, sets a fine example to his men both on and off the field.
In addition to the names mentioned above, no history of the Sefton Club would be complete without a word of appreciation for the hard work and long service which have been rendered to the club by Mr. R. L. Knipe, the president of this carnival, and by our ever-popular and efficient assistant treasurer, "Bert Bayliss."
Officials of the Carnival.

Chairman ..R. L. KNIPE
Hon. Treasurer: L. F. PARLE

Hon. Secretaries

A. N. SPENCER

G. GRALEY
STEWARDS.
Chief Stewards: F. J. APPLEBEE, W. J. SMITH. Pay Gates : L. F. PARLE (in charge).

Car Park: F. L. PAISLEY. (Parking under R.A.C. directions).

Pavilion: H. HARLOW, R. A. LEES.

Programmes: H. F. P. BAYLISS.

Carnival Events (Ring): R. L. KNIPE, F. G. NEWSON, J. BURT.

Announcer of Events: T. GOSSOP.

Treasurer's Stewards: W. B. CROXFORD, B. A. COPPACK, J. W. BARKER.

Patrol: LIVERPOOL ROVER SCOUTS.

Mock Rugby Match: J. L. D. LEWIS.

Ankle Competition: J. MARTIN, F. M. GILLIES.

Baby Show: MEMBERS OF LADIES' COMMITTEE.

Badges: A. N. SPENCER.

Order of Events.
2-30p.m. Activities Commence

2-45p.m.-

Official Opening Ceremony by Alderman J. C. CROSS, J.P., Lord Mayor of Liverpool.

3-0 p.m.-

1-Gymnastic Display by the boys of Steers Street School.

2-Toddlers' Race (under 7); 50 yards ; handicap by size.

3-V.C. Race (boy competing runs 30 yards, picks up partner chosen for him and returns to starting post).

4-Skipping Rope Race (Girls); 6o yards; handicap by size.

5-Egg-and-Spoon Race (Boys and Girls); Open; Scratch.

6-Three-Legged Race (Boys). Committee reserve right to scratch if it seems desirable.

7-Chariot Race (Teams of 6 Boys).

3-30 p.m.-

8-MOCK RUGBY MATCH.

LADY GODIVA'S FASHION RANGERS V. THE VIN ORDINAIRES.

The Rangers-Miss 0. K. Style, Miss I. N. Form, Miss Ogle, Mrs. A. Dupois, Miss Coty, Miss Vera Violetta, Miss Fitu.

The Ordinaires-Mr. X. X. Burton, Mr. G. Stout, Mr. D (r . . . . t) Bass, Mr. (Bot . . . d) Worthington, Mr. M. I. L. Dale, Mr. B. L. (ue) Label, and Falstaff.

Referee-The Committee refuse to divulge his name, as they fear he may be got at by the Ladies, not that he matters, as the only rules relate to biting, scratching, and powdering, which (on the field) are strictly barred.

4-0p.m.-

10-Flying Display provided by the Liverpool and District Aero Club.

4-15p.m.-

11-Baby Show (in Marquee).

Class 1 .. .. .. .. Under 12 months

1st Prize, 10/-; 2nd, 7/6.

Class 2 .. Over 12 months and under 2 years

1st Prize, 10/-; 2nd, 7/6.

Special Prize for Best Baby in either class, presented by Glaxo.

Judges: Mrs. BUTE, S.R.N., R.S.I., and

Miss HAVENHAND, S.R.N., R.S.I.

4-20p.m.-

12-1st Display of Up-to-Date Methods of Extinguishing Fires by the "L. & G." Fire Appliance Co., 160, Vauxhall Road, Liverpool.

13-Sack Race (Boys under 14).

14-Three-Legged Race (Girls under '4).

Committee reserve right to handicap.

16-Sack Race (Boys between 14-40).

17-Three-Legged Race (Boys and Girls). Open Handicap.

18-Sack Race (Lads over 40).

4-45p.m.-Tumbling Display by "The Balfourians."

5-I5~5-45 p.m.-

Tea Interval.
5-45p.m.-2nd Display of Up-to-Date Methods of Extinguishing Fires by the "L & G." Fire Appliance Co., 160, Vauxhall Road, Liverpool
6-0 p.m.-
MOTOR GYMKHANA, ORGANISED BY THE SOUTH LIVERPOOL MOTOR CLUB.
Riders-1, V. DIETTERLE (Rudge); 2, L. STOWERS (A.J.S.); 3, E. WEBSTER (Royal Enfield); 4, E. S. NIXON (A.J.S.); 5, J. RANGE (Sunbeam); 6, W. G. NEILSON (Matchless); 7, J. C. MONIER (B.S.A.); 8, E. LAMBERT (Vincent-H.R.D.); 9, L. BANAHAN (B.S.A.); 10, T. LAW (Rudge).

Event 1-MINIATURE T.T. RACE.

Heat 1-Nos. 1 to 5.

Heat 2-Nos. 6 to 10.

First two in each heat to ride in Final.

Event 2-MUSICAL CHAIRS.

With Lady Passengers.

Event 3-SURF RIDING.

Heat 1-Nos. 1 to 5.

Heat 2-Nos. 6 to 10.

Event 4-EGG AND SPOON RACE (with Lady Passenger).

Heat 1-Nos. 1 to 5.

Heat 2-Nos. 6 to 10.

6.30p.m. ANKLE COMPETITION. Judges: MR BERT.

WRIGHT and the "PILOT" of the Evening Express

7.30p.m.

GRAND EXHIBITION BOXING MATCHES

Kindly arranged by Mr. BILLY METCALFE,

Who will bring a team of his Best and Brightest
SIDE SHOWS
(Members and Friends in charge).
COCOANUT SHIES. HOUP-LA. MARCHING TOFF

DARTS AND RINGS.

WHEEL OF FORTUNE. TREASURE HUNT.
COMPETITION STALL. GOAL SCORING.
THROUGH THE BARS. NIGGER'S HEAD.

RACE WHEEL. CLAY PIPES. WHEEL 'EM IN.

CRAZY KITCHEN. BALLS AND BUCKETS.

LUCKY DIPS. PUTTING GREEN. SWEET STALL

MEMBERSHIP, ENQUIRY AND PROGRAMME STALL.
SEFTON R.U.F.C.

Terms of Membership-

Playing Members (Senior) : £1/1/- per annum.

(Junior) : 10/6 per annum.

Honorary Members; 5/- per annum.

Lady Associates: 5/- per annum.

ACKNOWLEDGMENT.
The Sefton R.F.C. desires to acknowledge with many thanks, Gifts for Prizes, Facilities for Advertising, Judging of Competitions, Cartage, and the valuable assistance given by Members and Friends.


The Club also thanks the Service Guild (for providing the programmes free of charge), and the Advertisers who have helped in this direction.

All Aliens RFC, Sefton RUFC photographs, programmes and memorabilia Copyright © 2012 Sefton RUFC