Liverpool Post 10th March 1964

Sporting Print by Ian Hargraves

The greatest Rugby XV

Liverpool ever knew
This is a portrait of a team, who represented Liverpool Rugby Club in the season of 1913-14 and are still regarded with awe as one of the strongest in the history of the game.
The players are (left to right) - Back row: C.G.R. Hill, J.G. Grant, R. Cunningham, G.K. Cowan, J.E. Ross, R.R. Jackson, T.W. Lloyd. Middle row: J.G. Fowler, R.A. Lloyd, , F.H. Turner, R.W. Poulton-Palmer, G.B. Davey. Front row: J.H Clegg, H.H.E. Royle, E.H. Cowan.
The captain was F.H. Turner, greatest of all Scottish hookers; his lieutenants, R.W. Poulton-Palmer, the classical England threequarter, and Dickie Lloyd, oft-described as Ireland's best fly-half before the arrival of Jackie Kyle.
All three captained their countries - a unique honour for a club to claim in a decade, let alone a season - and between them they amassed the formidable total of 51 caps.
Not that they were alone in their glory. Tracey Fowler, the wing forward, won a Cambridge Blue and a place in the final England trial; George Davey, one of the survivors, was a regular county selection at scrum half for many years and Messrs. T.W. Lloyd and R.R. Jackson were widely regarded as one of the swiftest pairs of wingers in the business.
With Turner landing goals from all angles, it is hardly surprising that this great side were defeated just twice in 20 outings, one of them at Carlisle. What is more surprising is that they scored the vast total of 577 points and conceded only 154. Few complaints about negative Rugby here, I imagine !
I am indebted to a playing colleague of Mr Davey's former county forward H.H. Royle, for further information about these great men of 50 years ago. Mr Royle, who kindly supplied this photograph, now lives in Market Drayton and has yet to visit Liverpool's new ground but his memory of the past remains crystal clear.
"Our pattern of play seldom varied," he writes. "Turner would hook, the forwards shoved and kept our legs out of the way, and as soon as Davey had the ball we had no further trouble.
"As a comparatively light pack we worked very hard in the scrum. I have a pair of thick ears as a momento - but it was well worth it."
What about the shock defeat at Carlisle? Mr Royle explains it as follows. "The fact that Turner played in the centre, leaving us without a hooker was I think the main cause of our collapse."
In those far off days the rules governing qualification for county and country were very different from what they are now. "Players who had caps for Scotland or Ireland were not eligible for an English county," says Mr Royle, "but even so I can remember seven of the Liverpool members as members of the Lancashire side. Poulton-Palmer never played; why I do not know."
Presumably because he had previously turned out for Middlesex while playing for Harlequins.
***********************************************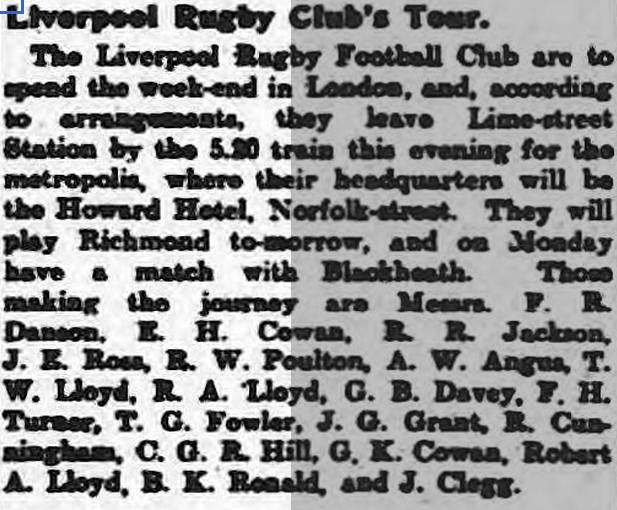 6th February1914
***********************************************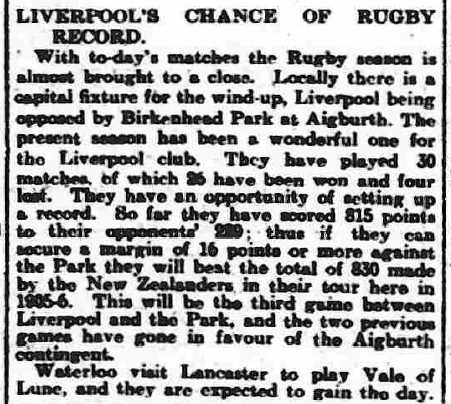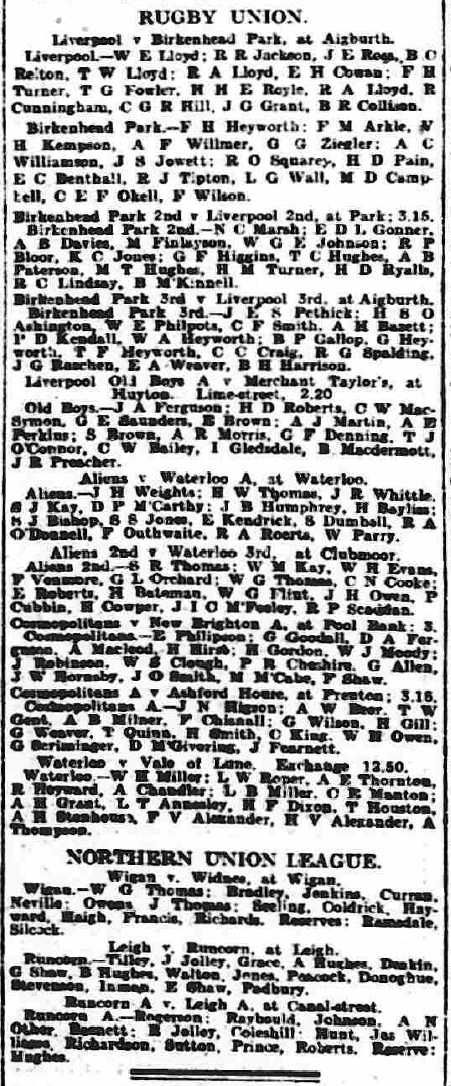 Liverpool Daily Post and Mercury 4th April 1914
Liverpool Daily Post and Mercury 6th April 1914
***********************************************
As of March 1916, three were dead and four wounded.
The England rugby team pose for a last photograph just months before being called up to fight in the First World War where five of them would perish
Daily Mail
The 27 England Rugby Internationals who were killed in WW1 -
link
All Aliens RFC, Sefton RUFC photographs, programmes and memorabilia Copyright © 2012 Sefton RUFC