Highlights

Devonshire tease - is Barry really dumping Chip ?

Radioactive leak from Blue Escort reported to BNFL

Altview Heights demolished by first team kickers
Inside

Club Captain thinks about reforming Sth Liverpool RFC

First Team pack sponsored by Age Concern and Saga

Lizard Man hibernates - does this make you blind too ?

The

Seftimes

Rugby World Cup 1999 !
Are Sefton teams being depleted by International call ups ?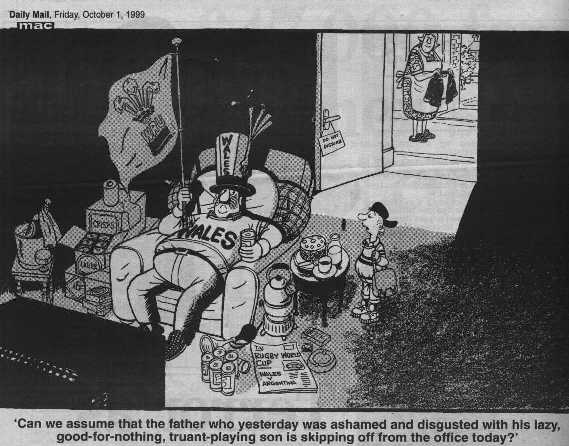 Bury

22 Sefton 7

Sefton lost interest in the Tetley Vase with this first half exit although they were winning 7-5 at three quarter time.

Bur wrong options when there were overlaps cost them dear while a Gary Hampton effort almost resulted in a try which could have made all the difference. Best for Sefton were Steve Teale and substitute prop-forward Brian Gardner with their try being scored by Barry Wilkes and converted by Paul Walker.

Sefton

0 Ellesmere Port 20

Sefton have yet to win this season but their heads never went down although Ellesmere Port always bossed this Cheshire/South Lancashire Division Two clash.

Ian Johnson, Martin Bell and Steve Richards scored Port's tries with Kevin Mason adding a conversion and a penalty.

Tommy Johnston was outstanding for the visitors while Paul Walker was best for Sefton.

'Seftimes' is a bit of a larf, all characters in this newsletter are hopeless and any association in real life is purely coincidental. If you don't like it 'tough titties', if you can you feed the Editor with 'scoops' feel free to E-mail on : - davidbohl@compuserve.com or you can visit the new Internet site at www.seftonrufc.co.uk