Highlights
Brisbane Broncos fail to mount St Helens 18-20

Matty off the case of Norma Snockers and Gloria Sboobs

Dunce of Wales - Llewellyn gets Tw*t of the Match
Inside
Barry's comeback - the only 6 secs he's had for ages

Paul Wynne meets Peter Mandelson in the sin bin

Teale becomes a malade after his leaving drink
The Surftimes

We're forever blowing doubles !
West Ham knock United out of the FA Cup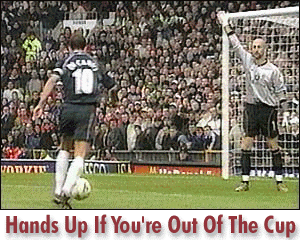 Sefton 27 Marple 8
Teacher Jamie Luck taught Marple a lesson or two as he inspired Sefton to success.
His superb performance helped his side to remain amongst the Cheshire/South Lancashire Division Three front runners.
Team-mates Peter McBride, Jack Blackburn and Mark Tyms were not far behind.
Sefton scored tries through Paul Wynne, Jamie Luck, Mark Carruthers, McBride and Tyms in a convincing display.
Phil Evans added a conversion.
First XV for Sat 27th Jan 2001
BYRNE, K
CARRUTHERS, MW
HARPER, F
ROGERSON, G
BLACKBURN, J
WYNNE, P
TYMS, M
SHEEHAN, A
LUCK, JL
EVANS, P
OSBORNE, P
WALSH, A
MCBRIDE, P
GRIFFITHS, L
EDWARDS, DW
TEALE, SR
SMITH, D
TURNER, M
'Seftimes' is a bit of a larf, all characters in this newsletter are hopeless and any association in real life is purely coincidental. If you don't like it 'tough titties', if you can you feed the Editor with 'scoops' feel free to E-mail on : - davidbohl@compuserve.com or you can visit the new Internet sites at
ourworld.compuserve.com/homepages/davidbohl or www.seftonrufc.co.uk