Isle of Man Special
The Weakest Link - Phil Osborne, the bar, or handcuffs ?

Foot and Mouth - Vets check out eleven of Bashers tarts

Gluedo - was it Coulter with the plastic skin in the IOM ?
Highlights
Red Taxi - Frank gets coded message about 9 plane seats

Plans for the one million peseta club extension approved

Late replacement - Geoff Daley plays on the Right Wing
The Surftimes

Sefton forwards play Monopoly in the Isle of Man
One uses his 'Get out of Jail Free' card, the other throws a double six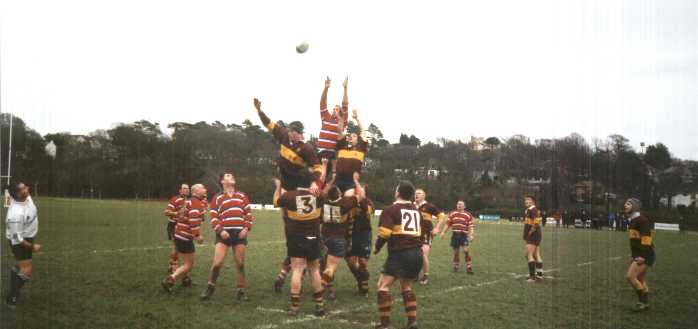 Douglas 24 Sefton 14
Sefton led twice but their worst performance of the season was a blow to their Cheshire South Lancashire Division Three promotion hopes.
Peter McBride scored their only try and Phil Evans added three penalties.
First XV for Sat 24th Feb 2001
BYRNE, K
COULTER, WT
CARRUTHERS, MW
BLACKBURN, J
ROGERSON, G
THOMAS, MG
TYMS, M
SHEEHAN, A
LUCK, JL
EVANS, P
OSBORNE, P
WALSH, A
BROWN, S
MCBRIDE, P
STITT, J
Sefton 12 Ashton-U-Lyne 14
Sefton went out of the Lancashire Plate after a disappointing performance against the visitors from Manchester.
Ashton scored the only try of the game with Phil Evans landing three penalties.
First XV for Sun 4th Mar 2001
GARDNER, BS
CARRUTHERS, MW
HARPER, F
JAMES, D
WYNNE, P
SHEEHAN, A
TYMS, M
WALSH, A
THOMAS, MG
EVANS, P
OSBORNE, P
OSBORNE, W
MCBRIDE, P
GRIFFITHS, L
STITT, J