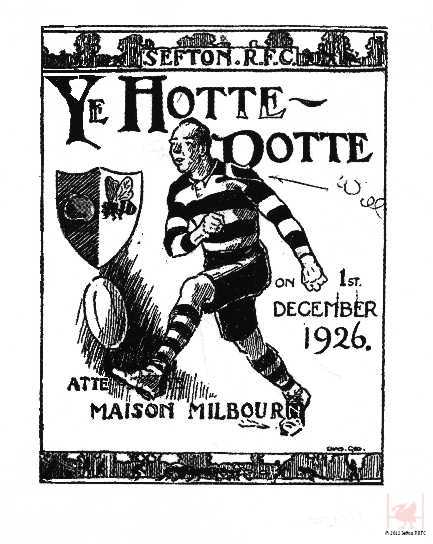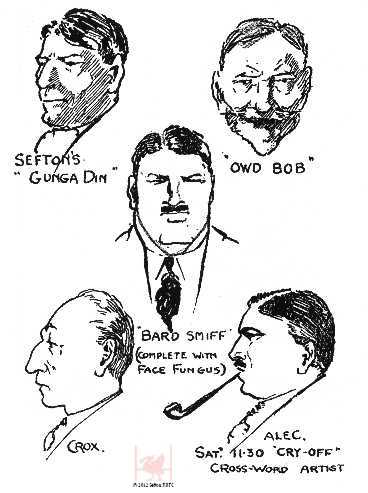 SEFTON R.F.C

SOCIAL EVENING

HELD AT

THE VICTORIA CAFÉ

W E D N E S D A Y

1st December, 1926

On the occasion of a presentation made by the members

of the club to Mr F. J. APPLEBEE, the retiring

Hon. Secretary, as a token of the affection and esteem

in which he is held and in recognition of the invaluable

services he has rendered to the club during his twenty

years of office.
Menu
Hors d'Oeuvre de studs conical
SOUP
A la Hare et Hounds
ou
Creme de Mud West Derby
FISH
Eel de la scrum avec Sauce de linament
ENTREE
Grasshopper de Preston a l'undervest
JOINT
Ear de Prestwich au Palmer
LEGUME
Herbes de Meadow Lane
SWEETS
Perhaps
CAFE
Doubtfull
WINES
BEER
MORE BEER
STILL MORE BEER
Cocktails de Mackenzie (Censor permitting)
Artistes

During the evening the following outrages will be

perpetrated. You are respectfully requested not to

throw your boots, empties or false teeth at the

offenders, as some of them are due to play on

Saturday.

__________
Mr. CLIFF JONES will warble. Gentlemen
G. NEVILLE WHITE has the joker up his sleeve.
BIG FRANCIS will render "The Refrain from Spitting.
"Framed" facetiousness by Arthur.
Banjo banging by Billy.
H. L. sweetly sings sonorous sonnets

(simultaneous sipping to be suppressed.)

BILL SMITH in his special "Flower Song"

(not out of "Carmen.")

If the premises are big enough BILLY TRIST will oblige.

At the piano---a slight impression of a dog digging, by Douggie.
____________

WARNING.

The man who is responsible for the gross libels,

on the cover of this document played for the

"Aliens" when we had a real team, and is an

ex-light weight champion.

Some items of Club News


from an Unreliable Source
___________

1 The Hon. Treasurer is pleased to report that

all playing members subs. were duly paid at

the beginning of the season.

2 All the honorary members have paid twice.
The "Hobo" XV. has been discontinued owing

to all the players signing professional papers.

A well known Rugby League Club has offered

to buy the 1st XV. en bloc, after seeing the

match against the "Park".

There was a tremendous boom in the mineral

water trade in the I.O.M. during the Sefton

Tour last Easter.

A prominent member of the 1st XV. has been

suspended for cannibalism.

Mr. L. A. WILSON has got a new job; he now tells

the bed-time story for the Children's Corner of

the B.B.C.

Mr. PAISLEY is getting quite proficient at Snap.

Mr. LESLIE HARRISON is to be the new President of the "Pussyfoot League."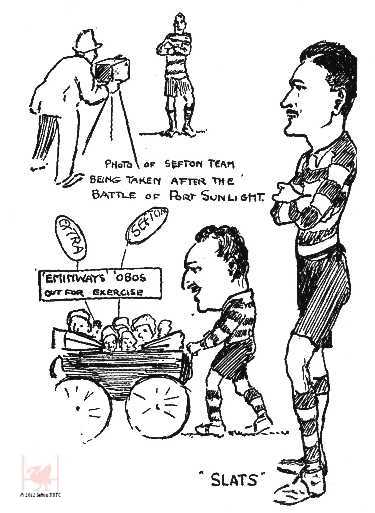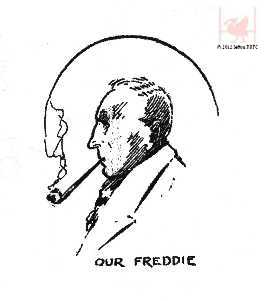 All Aliens RFC, Sefton RUFC photographs, programmes and memorabilia Copyright © 2012 Sefton RUFC