Eric Kenyon Andrews Boyce
Aliens v New Brighton:
Haney, Quine, Lloyd, Bond(capt.)
Boyce
, Scott, Bate, Askew, Bretland, Brown, Bywell, Cannell, Emblem, Raffle, Williams
(Liverpool Courier 26th September 1908)
The search for a "Boyce" playing for the Aliens in the 1908-09 season is one worth relating for a number of reasons but it had to be resolved by reverse engineering from the 1939 Register.
The 1939 Register brought up E.K.A.Boyce, a schoolmaster residing at North Mossley Hill Rd which turned out to be the Lower School at Liverpool College.
Great War Forum member Daggers recalls a one-armed teacher named Boyce and his good link at Liverpool College confirmed the fact EKA taught there, "
E.K.A Boyce was teaching at the Lower School before and during ww2. He had degrees in both arts and science and a forestry diploma as well. He had previously been headmaster of his own prep school in Worthing, Sussex. He'd lost an arm in the first war.
"
Eric Kenyon Andrews Boyce was born 1890 in Southampton and went to Hartley University in the town before gaining M.A and B.Sc at Exeter College, Oxford. He was a schoolteacher in Southampton and joined up in Kitchener's Army with the Hampshire Regt stationed at Parkhum. As a Corporal in the 13th battalion EKA was commisioned in March 1915 with the 6th Dorsets. He fought gallantly in France and reported back to headquarters with a brilliant piece of trench warfare humour:-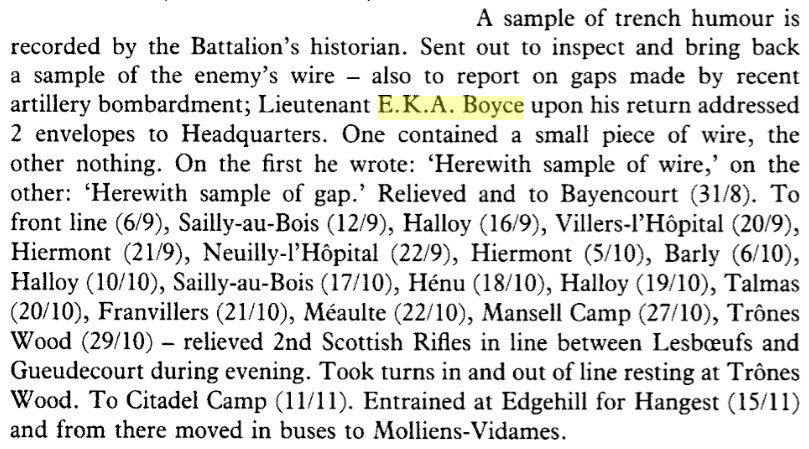 [Google Books - British Battalions on the Somme: Battles & Engagements of the 616 Infantry
By Ray Westlake]
EKA was first injured in 1916 but returned badly injured to Worthing in 1918 after receiving a gun shot wound(gsw) to the left forearm, eventually leading to him having to leave the forces.
After the war he returned to teaching posts in Worthing and Sutton Courtenay in Oxfordshire, I just wonder if he knew our mountineering friend
H.E.L.Porter
who also resided there ? Perhaps it was Porter who advised him to take the vacant post up north at Liverpool College.
Considering all the available evidence it is highly unlikely he was the chap that played rugby here in 1908.

Eric passed away shortly after the WW2 in 1948 in Liverpool
Lt Eric Kenyon Andrews Boyce


A subsequent, more thorough search on the 1911 census brings up a Thomas Boyce, an assistant schoolmaster living at 14 Geneva Rd in Fairfield, Liverpool. According to the census entry he was born 1882 in "
North Brook
", Worcestershire. The area is actually called '
The Piddles
" and with the constant leg pulling he must have adjusted "
North Piddle
" to "
North Brook
".
His teaching career progressed to Blackburn, Lancs but this was also interupted by the Great War and he served with the Royal Naval Reserve as a Midshipman. It was actually on HMS President I, an accountancy base or 'stone frigate' located in both London and Shrewsbury. He was released in 1919.
After the war he rose rapidly to the position of Director of Education in Bradford, Yorkshire. Further research was rather puzzling as he died in the same year as his wife in 1955, was there something sinister going on ? Unfortunately yes, as the newspaper reports here:-

Yet another sad end to one of our merry band of schoolteachers.

(1882-1955)



All Aliens RFC, Seft0n RUFC photographs, programmes and memorabilia Copyright © 2012 Sefton RUFC





All Aliens RFC, Seft0n RUFC photographs, programmes and memorabilia Copyright © 2012 Sefton RUFC